Not only is San Diego a prime vacation destination but it is often referred to as the best place to live in California. We won't go as far as to pit our beloved California cities against each other, but there is certainly a reason that our nickname is America's Finest City.
As you look to live in San Diego, you may find that you are unfamiliar with the various different neighborhoods and suburbs. Civita San Diego is located in Mission Valley, a neighborhood near the airport, beach, downtown, Balboa Park, other trendy areas, and a popular university.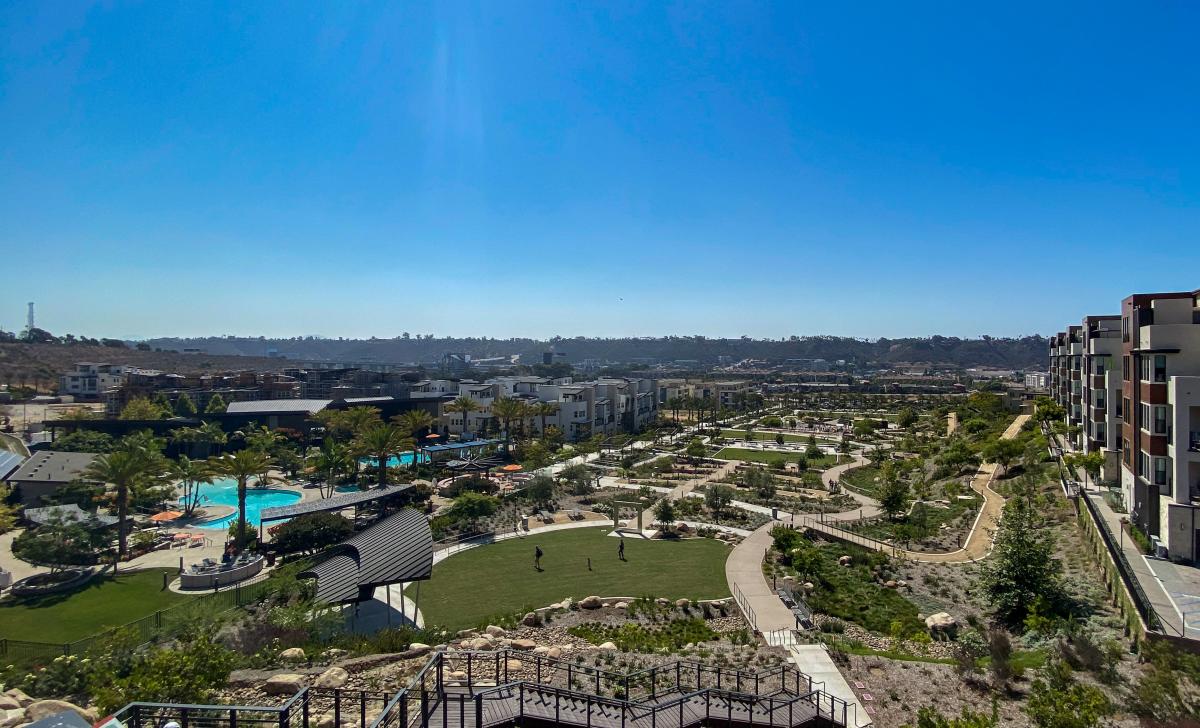 Well then, is this the best place to look when it comes to living in San Diego? That question depends on whether you want a curated, master-planned community or a beachfront unit, and whether you will be factoring in things like a commute, schools, and other nearby amenities. Civita San Diego does happen to check off almost every box you could think of, so let's talk about it!
Living in San Diego
San Diego has plenty to offer, from the city life that downtown's Gaslamp Quarter and Little Italy to the beaches of Encinitas and La Jolla, among plenty of other areas. To live in San Diego means that you get your pick of a beach town, a downtown, a suburb, or one of the many other unique areas in San Diego County.
For those looking for a lowkey place to live or a high-rise somewhere, there are plenty of options available. Anyone looking for a more community-based place to live with onsite amenities that go way above and beyond the normal apartment complex offerings will find that Civita San Diego might just be the right place to call home.
When it comes to living at the Civita Property, we should first talk about the area of San Diego that hosts this master-planned community, Mission Valley.
Living in Mission Valley
Mission Valley is a portion of San Diego that is bordered by multiple other neighborhoods and areas. Think of it as a sort of crossroads between downtown, the beach, universities, and other trendy neighborhoods.
If you aren't familiar with Mission Valley, it has so much to offer. It is home to not one but two major shopping malls, borders the expansive Mission Bay and Mission Beach areas, is about 10 minutes from the San Diego International Airport, and is right above the Old Town district. There are also two universities, San Diego State University (SDSU) and the University of San Diego (USD) close by.
You'll find a mixture of students, young professionals, families, and basically every other demographic in this portion of San Diego.
Why Civita San Diego?
Civita San Diego has incredible amenities, including outdoor space that spans acres and a huge recreation space for all residents to utilize. More than that, though, it's like a town in and of itself, with an elementary school, shopping, and dining options, and easy access to the trolley to get downtown and into the rest of the San Diego area.
This is the kind of lifestyle community that has everything that you can ask for all in one space.  The goal is to set tenants up for success, whether that looks professional, personal, intrapersonal, or even just as it relates to the search for townhomes, apartments, or condos.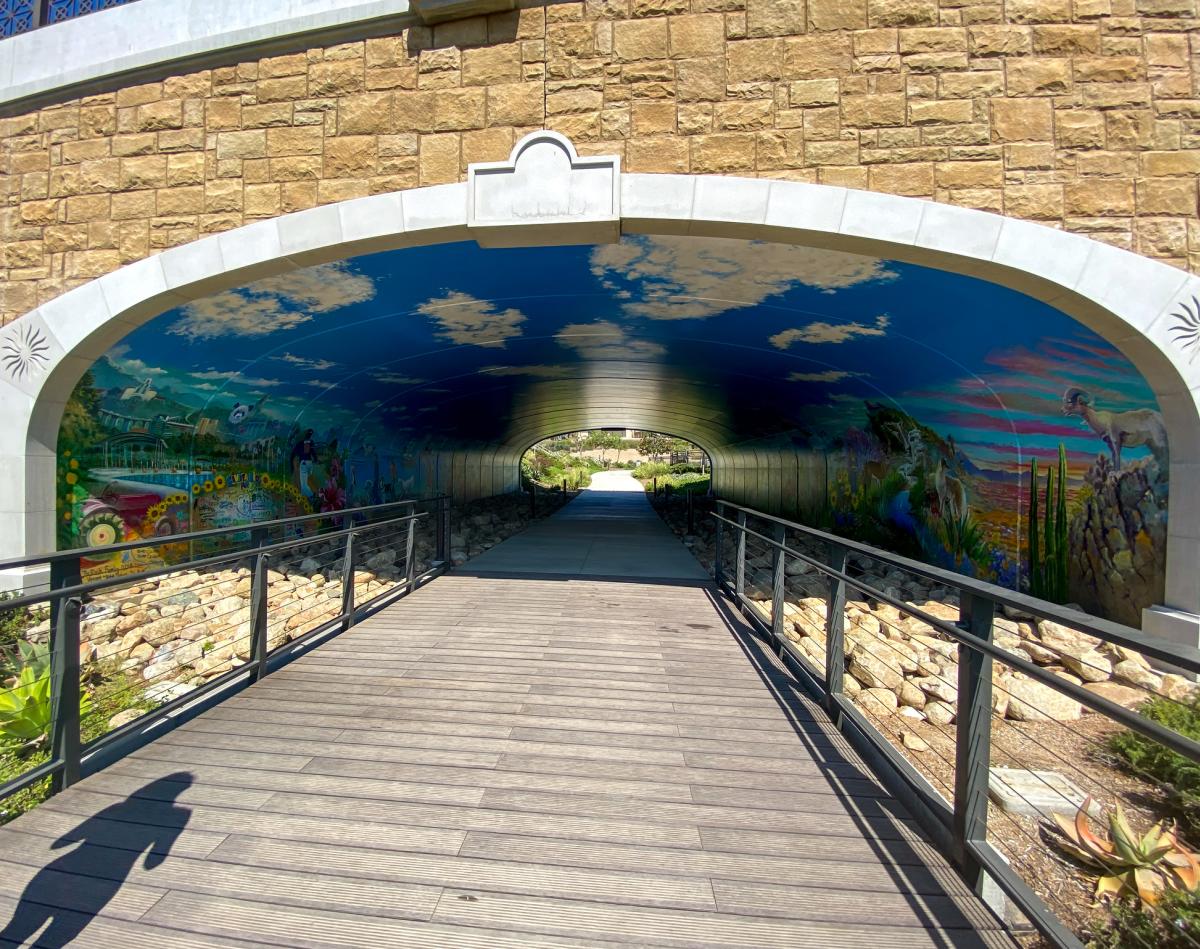 No matter how many square feet you require, what prices you are looking at as a buyer, or what page you are on when it comes to leasing an apartment, you will absolutely have a range of options. Not only that, you'll be surrounded by local businesses in the middle of Mission Valley. Picture walks downstairs not only to the pool but to a shop or café, runs through your own park or quick walks to the trolley stop to get to Petco Park for a game or to the Fashion Valley Mall.
Civita is the perfect place for someone wanting the access and amenities of being in the city combined with the location of Mission Valley and its proximity to nature, the beach, and other opportunities north of downtown.
Civita Community Garden
Open daily at 7 am and closing at 6 pm, this community garden has a fun playground for kids, water fountains for those hot days, and is connected to the larger Civita Park that makes up a large portion of Mission Valley's green space. The community garden is a space for families, individuals, and neighbors to come together outdoors, all within their residential community.
Civita Park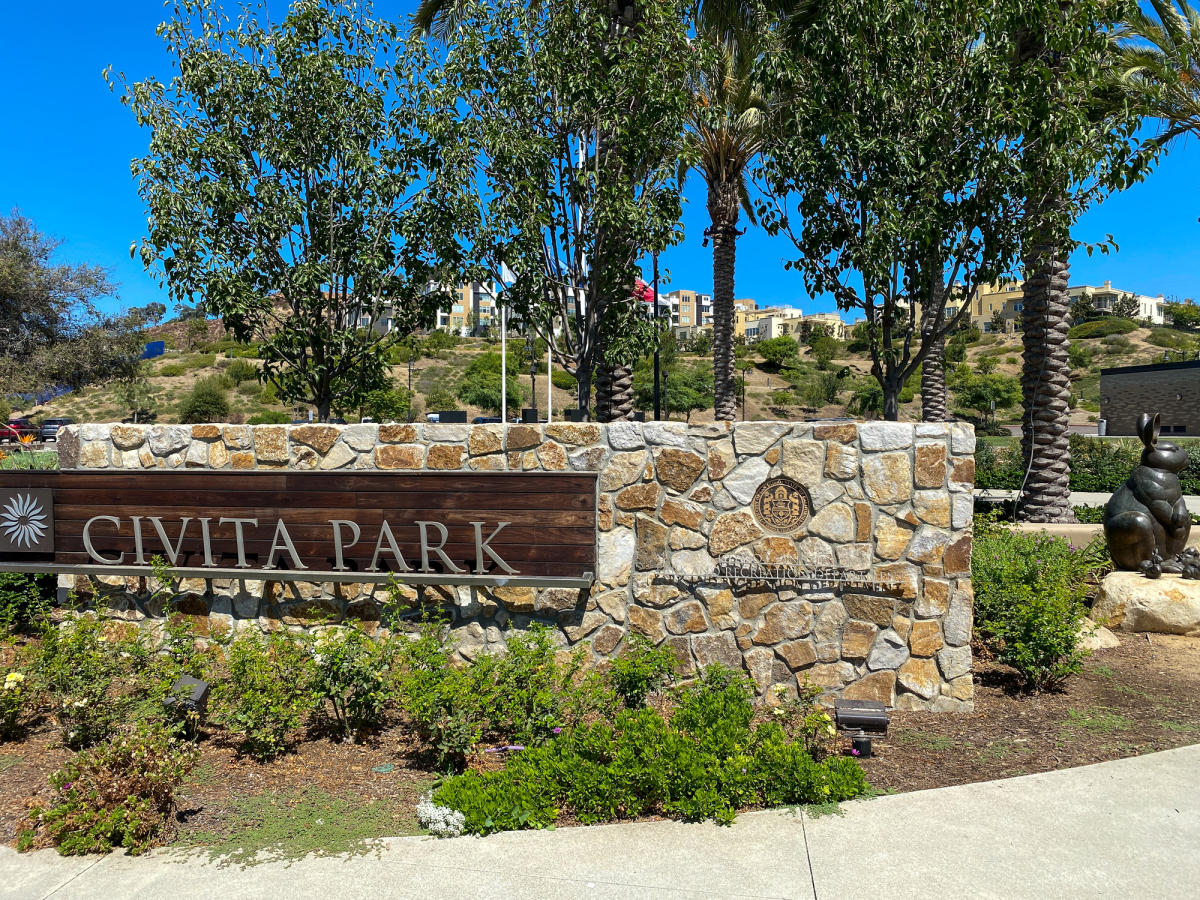 Not only is Civita Park the centerpiece of the entire Civita San Diego master-planned community, but it is also the largest city park in San Diego. At 14 acres of green space, it's not hard to understand why residents might love not only the privacy but the sheer size of this space.
Some amenities that you can expect are as follows:
·      Two playgrounds with shaded areas
·      Open space and fields
·      A picnic grove
·      Interpretive gardens
·      Community Garden
·      Picnic tables and outdoor living rooms
·      Plenty of palm trees and other flora
·      An outdoor amphitheater
·      48-jet splash pad
·      Game area
·      Basketball courts
·      Mining relic terrace with historic mining equipment (great for kids!)
·      Bocce court
·      Dog park with separate enclosures for large dogs and small dogs

Civita Park is managed by the City of San Diego Parks and Recreation Department.
Civita Dog Park
The Civita Dog Park is just one more great addition to the overall Civita Park. With separate spaces for big dogs and small dogs to run around with one another, it also creates a good environment to bring any pup.
Who needs to leave the complex for a busier dog park when there's such a convenient option right at home?
Parks on the Way to Civita
The community garden and dog park are only two sections of the greater Civita Park, to begin with, but there are also plenty of new recreation spaces expected to be coming soon to the Civita property.
Creekside Park will contain an acre and a half of native plants, an elevated walkway, picnic tables, play areas, and more space for dogs.
Phyllis Place Park has numerous overlooks and vistas, with sights of plenty more native Californian plants and another play area for kids to enjoy as adults meander through the space.
Franklin Ridge Park is the final upcoming addition, with views of the Mission Valley area and plenty of space to sit and enjoy a sunset.
The Row – Shops
Civita has a section known as The Row, which is home to shops and restaurants galore. It makes for an easy happy hour, lunch run, workout, and even a trip to the vet.
Some locations you can expect to see at The Row:
·      LA Fitness
·      Southpaw Vet
·      El Tianguis
·      Cork & Barrel
·      Hommage Bakery
·      iNailology Spa & Bar
·      Poki Bowl
·      Pizzo Pizza
Civita Rec Center
The parks and shopping at Civita are impressive, but what about all of the other 'standard' apartment amenities like a pool or rec space? Civita has plenty of that, including all of these outdoor amenities:
·      Firepits
·      Game areas for pool, ping pong, and more
·      Tropical landscaping
·      A lap pool
·      Two spas
·      Resort-style spaces
·      Private cabanas
·      Covered patios
·      BBQ and picnic areas
·      An expansive outdoor deck space
There are also the following indoor amenities:
·      Spin bikes
·      Cardio and weight machines
·      Free weights
·      Open space for stretching and yoga
·      Retractable glass walls for a workout with a view
·      Pool overlook area
·      Private conference room
·      Arcade room
·      Modern multi-purpose kitchen
Moving to Civita - Real Estate Agents & Touring
As you look to move to the Civita property, you can worth with a real estate, or leasing, agent to take tours, get information, and decide whether it is the right fit for you. Your agent will help you to focus on making the most of your search up until you sign your new lease, or decide to make it official and agree to one of the listings of townhomes available.
The area is developed by Sudberry Properties in partnership with the Grant family and offers three-story townhomes, apartments, condos, and incredible amenities at appropriate list prices based on the market in San Diego. Whether it is a sale or leasing situation you are looking for, you are guaranteed a good purchase price and can expect to join a wonderful community in the heart of Mission Valley.
To make your way to San Diego, or if you are a current resident that is ready for a change in your location and/or amenities, getting an in-person sense of this master-planned community is an important last step in making your decision. If you can't visit in person, check out their website for extensive information, videos, and more.
Are you looking to make your move to (or across) San Diego? Let us know on our socials @sandiegodotcom if you have any questions or have some extra information you think might be worth sharing!
Until next time, friends.