San Diego's Best Rooftop Restaurants 
With an average of 266 sunny days per year, San Diego is the perfect place to enjoy dining al fresco. From casual spots to sit back and relax after a day at the beach to swanky eateries ideal for romantic evenings under the stars - San Diego has mastered the art of rooftop dining.
San Diego is a foodie city -locals are spoiled with plenty of options to choose from spanning the entire city and the surrounding neighborhoods. Visitors often come from afar in search of the best tacos, and hip fusion spots seem to pop up around every corner. The options when it comes to rooftop restaurants are equally diverse. It's safe to say that in America's Finest City, enjoying lush cocktails and tasty eats while towering above the lively streets has become an art.
Visiting one of the rooftop restaurants in San Diego is the perfect way to get outside and enjoy gorgeous weather, regardless of the season. Take in views of the Pacific Ocean or enjoy taking the city skyline as the lights come on. Whether you're looking for a hip dinner spot with gourmet eats to watch the sunset or a trendy brunch spot to soak up the sunshine – we've got you covered with our guide to the best rooftop restaurants in San Diego.
Gaslamp Quarter Rooftop Restaurants
If you're looking for the most options when it comes to rooftop dining in San Diego, head to Gaslamp Quarter. Some of the best restaurants in the city can be found in this exciting downtown San Diego neighborhood, and there are plenty of amazing rooftop options to choose from.
Gaslamp Quarter is a historic neighborhood in San Diego close to the city center with a great nightlife scene. Locals and visitors alike flock to this neighborhood as the sun sets over San Diego to enjoy delicious eats and mouthwatering cocktails. The streets are scattered with art galleries, bars, theaters, and restaurants making it an ideal destination within the city.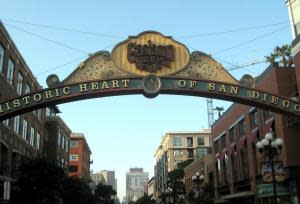 The unique urban neighborhood dates to the 1850s and combines historic charm with great shopping, food, and fun. Gaslamp Quarter is spiciest after the sunsets and enjoying a meal outdoors at one of the area's rooftop restaurants is the perfect way to start off your night!
Lumi by Akira Back
Created by the internationally celebrated chef Akira Back, Lumi is an upscale rooftop restaurant serving up Japanese cuisine, sushi, and craft cocktails. Akira Back is a Michelin-star chef behind the best Japanese restaurant in Las Vegas – Yellowtail – which is located within the Bellagio hotel and casino. His unique restaurants are popping up around the world, and Lumi is the perfect place to experience the flavors and flair during a trip to San Diego.
Blending global influence with high-quality local ingredients, Lumi offers an immersive and unforgettable dining experience with incredible city views. The décor is modern and eclectic and pairs traditional Japanese elements with bright pops of color and hip DJ beats to set the perfect vibe. There are some great options of sharable plates and sake cocktails that are perfect to enjoy with friends before a night out in the San Diego Gaslamp Quarter.
Rustic Root
Serving up delicious New American cuisine, Rustic Root is one of the local's favorite spots when it comes to rooftop dining in the Gaslamp Quarter. The dishes vary from traditional to unique and always use fresh local ingredients. Menu items include comfort food like Mac and Cheese, rustic fried chicken, and bone-in pork chops. Those in search of a lighter meal will love the kale Caesar salad or the roasted Salmon dinner.
For cocktails, you can enjoy creative blends from master mixologists or stick to traditional favorites. On the weekends, Rustic Root is a popular San Diego brunch spot and there will often be live music on summer evenings.
Garibaldi
For an enchanting 360-degree view of the San Diego skyline head to Garibaldi which sits on top of the InterContinental San Diego. The menu features a blend of Mediterranean delicacies and Italian-inspired cuisine. The aesthetic is dreamy and romantic with speakeasy-style décor.
An amazing place to watch the sun go down, Garibaldi is an ideal place to spend an evening with friends or on a romantic date night.
The Rooftop by STK
If you're looking for an impressive night out or to wow the socks off a date, head to The Rooftop. A visit to this aptly named restaurant is a full VIP experience and it is definitely one of the top places to see and be seen. The trendy spot features sweeping views of the city skyline and ocean, classy décor, and a lively atmosphere.
American cuisines like steak and seafood dominate the menu but everything has a fresh California twist and uses locally sourced and organic ingredients. During the day you can soak up the sun at the rooftop pool while sipping on creative craft cocktails and at night you can enjoy live music in this hip and buzzy Gaslamp Quarter favorite.
The Pool House
The Pool House is another rooftop pool that doubles as a bar/lounge and restaurant. It's a major party spot in San Diego and a great place to visit if you are looking for a lively social ambiance. The food is mostly small bites, and the fish tacos are to die for.
Located on the roof of the Pendry San Diego, it's located on Gaslamp Quarter's famous 5th Avenue, so you'll be right in the heart of all the action. Take in city views, and be sure to see what events and parties are taking place at The Pool House during your visit to San Diego.
The Nolen
The Nolen is one of the top-rated San Diego rooftop bars and offers gorgeous views of Petco Park and the Coronado Bridge. It is located on the 14th Flair of the Courtyard Gaslamp. The food options are mostly bar bites but with California style. Try the beer braised short rib sliders or the sticky Korean chicken bites for something filling or the fava bean hummus tartine if you're looking for a light snack.
The cocktails shine at The Nolen. Enjoy mouthwatering concoctions made with small-batch spirits from San Diego. The Lover # 1 is the perfect choice for a warm summer day and is a combination of vodka, Pamplemousse, damiana, lemon, and sparkling rose. The Nolen is also a popular Sunday brunch spot.
Seneca Trattoria
Seneca Trattoria might be a new kid on the block when it comes to San Diego eats, but it's quickly becoming a favorite spot to enjoy great views and awesome Italian food in a laid-back environment. On the 19th floor of the Intercontinental Hotel, you can enjoy views of the water along with mouthwatering pizza and pasta.
FLOAT
FLOAT offers a sophisticated but lively rooftop lounge perched above the Hard Rock Hotel in the Gaslamp Quarter. During the day, it's the perfect place to relax by the rooftop pool in the sun, and at night it transforms into a classy lounge with nightly live music. When you visit the restaurant you receive complimentary VIP access to the pool, so if you're looking to escape the heat with a swim while enjoying views and great cocktails – FLOAT is an awesome spot.
FLOAT is really more of a cocktail lounge and poolside bar, but you can order tasty bar bites while enjoying drinks around the pool or fire pits. If you're looking for lovely rooftop bars in San Diego this is the spot.
Best Rooftop Dining in Little Italy
Little Italy in San Diego is an incredibly chic area to enjoy an unforgettable meal on a rooftop. It's close to downtown and was originally a fishing neighborhood inhabited by Portuguese and Italian immigrants. The area is super walkable and is scattered with upscale boutique shopping, music venues, and delicious restaurants.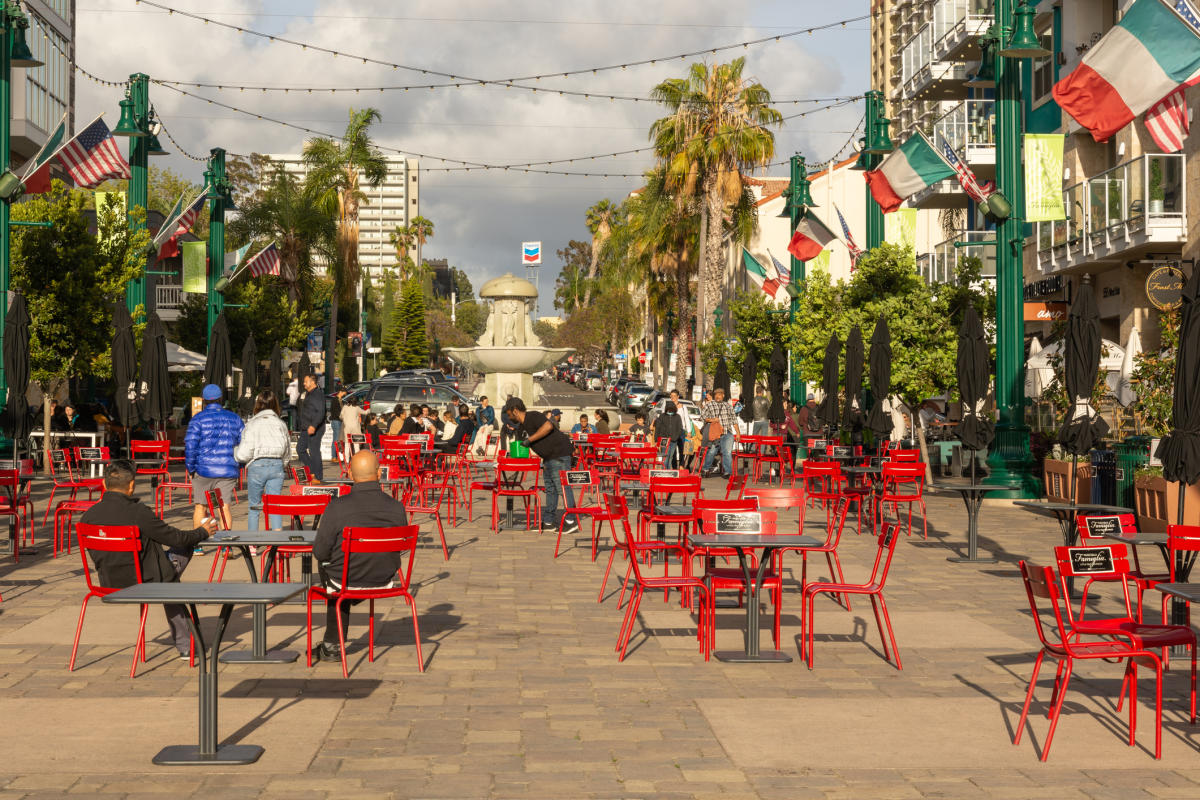 Crowds flock to the area each Saturday and Wednesday for the Little Italy Mercato Farmers' Market – which is one of our favorite San Diego pastimes with over 150 vendors. After shopping at the market, sit back and relax with a cocktail at one of the neighborhood's tasty rooftop eateries.
Kettner Exchange
With two indoor and outdoor dining levels, Kettner Exchange is a local favorite in Little Italy. The style and architecture of the restaurant are gorgeous and pay tribute to one of San Diego's founding fathers, William Kettner. The theme is somewhat nautical, and the building won a prestigious award for architecture.
The dinner menu features New American cuisine with options like spicy shrimp, pork-belly sandwiches, and gourmet salads.
Pali Wine Company
For a glass of wine and an epic charcuterie, head to Pali Wine Company. The upstairs balcony offers beautiful views overlooking Little Italy and there is also a lovely backyard patio if the upstairs is full.
Wine tastings start at around 28 USD and menu items vary from small bites (braised Spanish meatballs), Charcuterie boards with artisan cheeses, and gorgeous salads. Enjoy wines from California and around the world.
Born & Raised
Looking to enjoy a perfectly prepared steak on a rooftop? Head to Born & Raised. The rooftop terrace is beautiful and elegant in this high-end restaurant with lantern lights, velvet décor, and pretty views of Little Italy.
The rooftop bar is a great place to stop for small bites and cocktails before a night out, but if you're looking for a full-on gourmet steakhouse experience in San Diego, this is one of the best spots. For a luxurious night under the stars, this is one of our top picks.
Rooftop Restaurants in La Jolla
La Jolla is one of the most popular seaside neighborhoods in San Diego and can be reached in just under 30 minutes from downtown San Diego by car. It's the perfect place to enjoy the outdoors with hikes at Torrey Pines State Natural Reserve or take in the ocean views at La Jolla Cove while watching the seals and sea lions lounge on the rocky cliffs.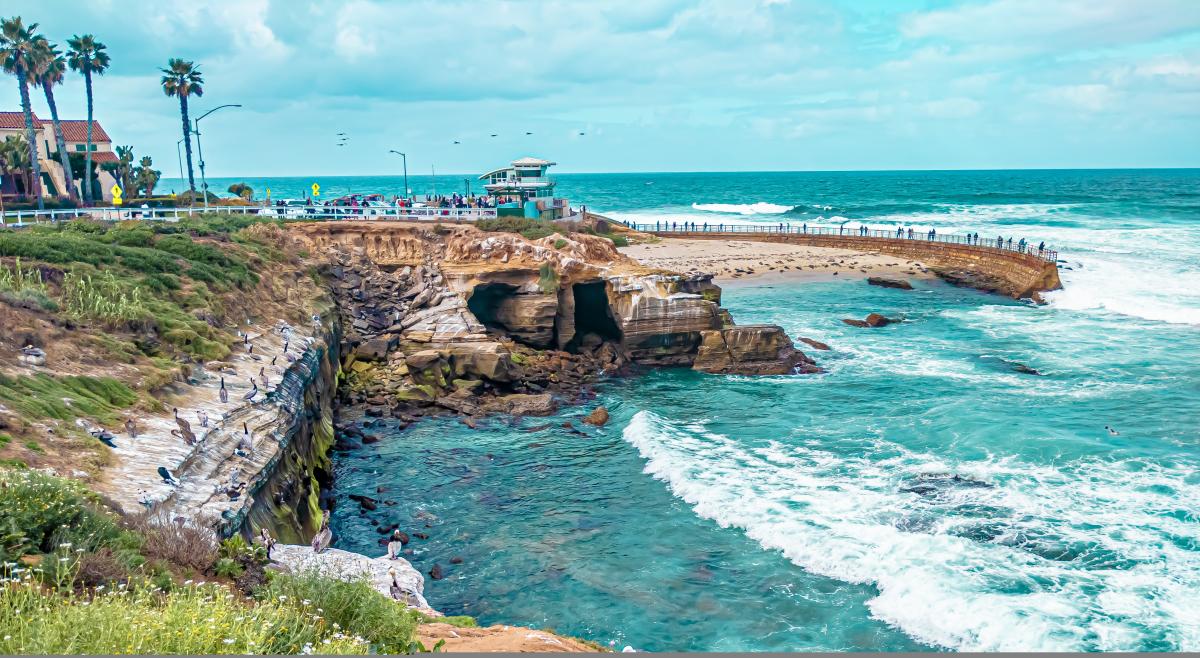 Full of high-end boutiques, La Jolla village is posh and extremely walkable. During your visit, stop in for a meal at one of these fabulous waterfront rooftop restaurants and watch the sunset over the stunning California coastline.
Catania
You can find Catania perched above La Plaza Center. It's right in the heart of La Jolla and is the ideal place to enjoy stunning views of the Pacific Ocean. Since opening in 2015, it has quickly become one of the area's most popular restaurants. The menu is heavily influenced by the flavors of Italy with a coastal twist and includes homemade pasta, pizza, and seafood options.
George's at the Cove
Created by well-known chef Tree Foshee, this New American restaurant is located right on the water. It has been named one of the best places to enjoy rooftop dining time and time again by locals and visitors alike.
Here you can enjoy panoramic views of La Jolla Cove while munching on mouthwatering delicacies like swordfish and duck breast or vegetarian paella. If you're looking to catch an epic San Diego sunset, this is one of the best spots.
Birdseye
Birdseye can be found on the rooftop of the Cormorant Boutique Hotel, formerly the La Jolla Village Inn. The new rooftop restaurant opened in 2022. It is trendy with a modern design, pop art, and a wall covered in living plants. Panoramic views of La Jolla Cove can be enjoyed while sipping on craft cocktails and snacking on small plates like beef and corn empanadas or shrimp tacos.
More of the Best Rooftop Restaurants in San Diego
Gaslamp Quarter, Little Italy, and La Jolla are hot spots when it comes to the rooftop dining scene in San Diego, but there are plenty of other amazing restaurants scattered around the city that are worth adding to your itinerary. From Mission Beach to Carlsbad, we've rounded up some of our favorite places to eat, drink, and be merry on the roof in other San Diego neighborhoods.
Cannonball
Cannonball is an upscale spot in the Mission Beach neighborhood that serves high-end sushi and Japanese cuisine and beachy cocktails with ocean views.
Kairoa Brewing Company
If you're looking for a cool rooftop brewery, check out Kairioa Brewing Company. Inspired by the flavors of New Zealand, it is the perfect place to enjoy a craft beer in the sunshine, eat some wings, and enjoy the views of the University Heights neighborhood.
Starlite  
If you're in the Mission Hills neighborhood of San Diego, head to Starlite for a relaxed atmosphere, delicious cocktails, and a delectable menu featuring items like bone marrow and burgers. It's a hidden gem in San Diego that is well worth a stop.
Firehouse American Eatery and Lounge 
Pacific Beach's Firehouse American Eatery and Lounge underwent a huge renovation in 2015, but the beloved rooftop with its huge fireplace and private cabana lounges remains a San Diego local favorite. Enjoy the ever-changing cocktail menu and elevated sandwiches, salads, and soups. It's also a great spot to grab brunch.
Park 101
Carlsbad affectionately referred to as The Village, is home to Park 101. Multiple levels and a community vibe that is both kid and dog-friendly make this an ever-popular place to enjoy dining al fresco. Tacos, wings, and ceviche won't disappoint!
CocoCabana Rooftop Bar
Experience the spirit of the Caribbean without leaving San Diego. CocoCabana serves Caribbean-inspired food and cocktails in the Oceanside neighborhood. Share a plate of jerk buttered oysters, chipotle barbecued shrimp, or roasted wild mushrooms while sipping on a signature cocktail like the Miami Pound Machine. There's often live music and the rooftop can sometimes transform into a wild dance party.