You may have expected Knott's Berry Farm to be a…well, berry farm. While that was once true, the space is now a popular theme park located in Buena Vista, near Anaheim. It isn't quite in San Diego, but it's the perfect place for a getaway for locals, or to add to your SoCal trip as a guest.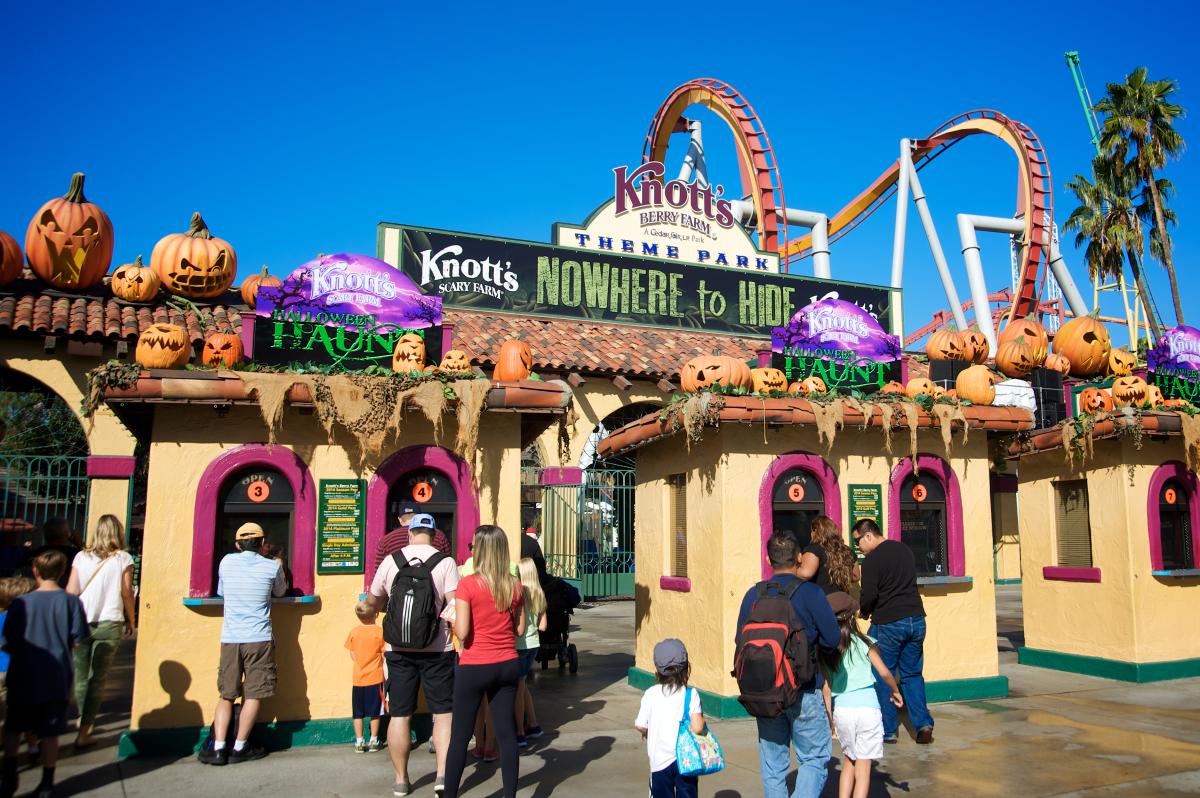 Of course, if Disneyland is on your list as you get closer to Anaheim, consider adding in this less expensive, but just as cool, SoCal spot. Whether it's a log ride, a dark ride, a thrill ride, or one of the many other rides at Knott's Berry Farm that interests you, you can plan on finding some of the best rides on the West Coast.
We'll go over all the basics of visiting Knott's Berry Farm theme park, Soak City, and the surrounding areas. From age restrictions to hours, where to stay, and highlighted rides and popular attractions, you'll be ready to head to Knott's Berry Farm in no time!
Knott's Berry Farm Rides
Knott's Berry Farm has plenty of rides ranging from kid-appropriate options to those fit for the biggest of thrill seekers. What began as a roadside berry stand has transformed into a truly entertaining spot with roller coaster after roller coaster to enjoy.
Explore rollercoaster after rollercoaster, spinning rides, a scrambler, a vertical drop, and more. Between things like a dive coaster, launched coaster, inverted coaster, a suspended coaster, and more, you are sure to find a roller coaster fit for young kids, older ones, and adults looking to have some fun.
Whether it's a fun ride, an intense ride, a dark ride, a flat ride, or even a wild ride, you're sure to find all of the best rides at Knott's Berry Farm. Between attractions like Knott's Beary Tales for younger kids and things for the whole family like the Timber Mountain Log Ride, we know that everyone will be happy here.
We won't highlight them all, but we want to talk about one ride that is fit (and fun) for the whole family! This is one of the top rides in the park, let alone one of the best places for an in-park train ride. Click here for an in-depth look at some of our favorite rides! 
Ride Highlight- Timber Mountain Log Ride
The Timber Mountain Log Ride, a family attraction with maximum thrill level and fast pass access, is often compared to the Calico Mine Ride.
The difference between the two? The Calico Mine Ride is a medium thrill level, with less incline and speed than its more popular counterpart. In fact, since its opening in 1969, the Timber Mountain Log Ride has been one of the United States' most elaborate log flume rides.
If it's your first ride, or maybe flat rides seem like a better idea, we recommend this as a good intro ride. For thrill-seekers that still want family rides, Timber Mountain Log Ride is the perfect way to get your feet wet. (Though we hope that's not literal… there is some splashing.)
Height requirements for both log ride areas are a minimum of 46 inches, or to be accompanied by a supervising adult.
Knott's Berry Farm Hours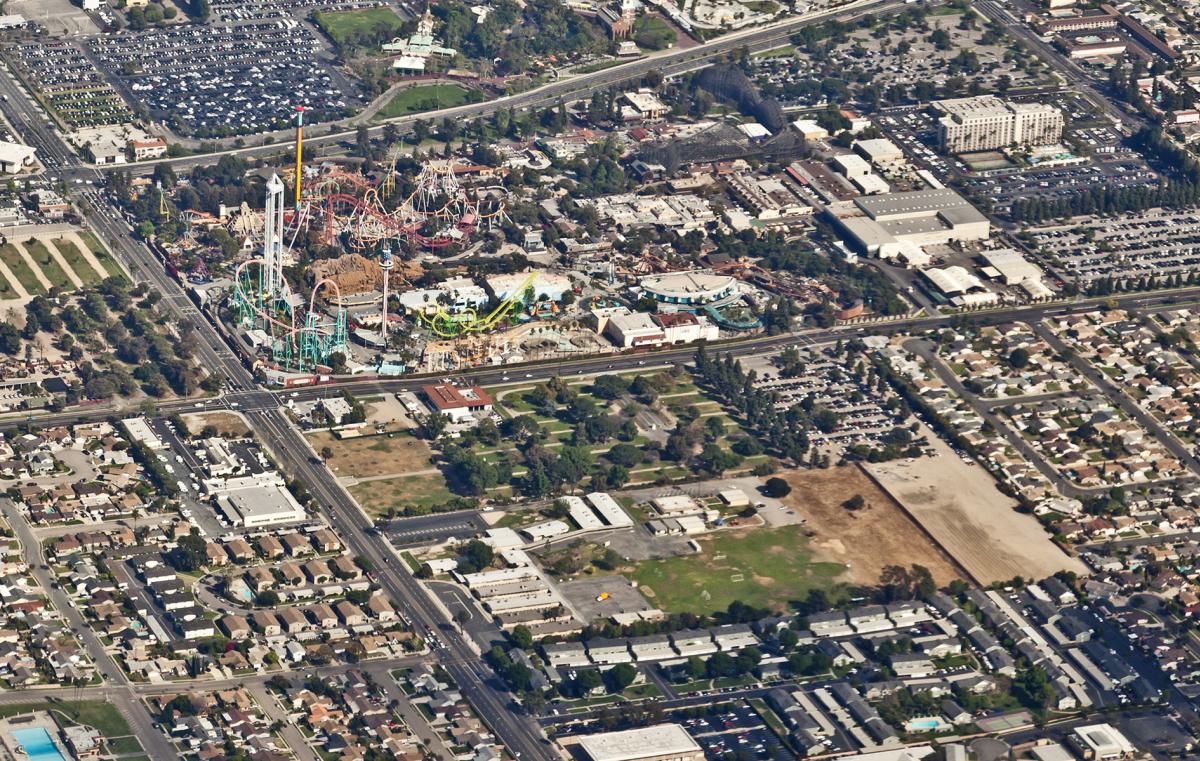 Open daily at 10 am, Knott's Berry Farm and Soak City both have varying closing hours, from 5 pm to 11 pm based on season, day of the week, and special events. So, make sure to check out their daily schedule.
Tickets and Passes
Knott's Berry Farm has a whole host of different tickets and packages, which we've sorted out below.
Whether it's both thrills and chill time you're looking for, if you'd like to hit up the amusement park and the water park, or if you want extra easy access to Knott's Chicken Dinner Restaurant, there is a ticket or pass option to suit you.
Theme parks like this are known for providing a range of thrill rides, downtime, and popular attractions, so make sure you have an idea of what you want to do and see before purchasing your tickets.
Season Passes:
All season passes will give guests unlimited access to Knott's Berry Farm.
Standard Season Pass:
$29 per month
Does Not Allow Soak City Access
Gold Pass:
$35 per month
Includes Soak City Access
Platinum Pass:
$53 per month
Includes All Cedar Fair Parks Access
Knott's Farm Tickets
General Knott's Berry Farm Tickets will give you access to the theme park, and each ticket has something additional to offer you.
Summer Dining Bundle
$84.99
Admission + Dining
Daily Tickets
$69.99
Discounted From Door Price
Ride and Slide Ticket
$99.99
Same-Day Access to Knott's Berry Farm & Knott's Soak City
Soak City Tickets
Other than the bundles with Knott's Berry Farm tickets and season passes, guests have only one ticket to enter Soak City.
Soak City Daily Admission Ticket
$49.99
Single-Day Soak City Access
Groups
Groups of 15-99 have highly discounted ticket options for all parts of the park, which makes access for work events, birthday parties, family reunions, and other events easier and cheaper.
Knott's Berry Farm Group Admission
$64.99/person
Single-Day Access
Saves up to $35/person
Knott's Soak City Group Admission
$44.99/person
Single-Day Access
Saves up to $25/person
Military Discounts
Military discounted admission is only available for the Knott's Berry Farm theme park.
Knott's Berry Farm Military Ticket
$68.99
Discounted From Door Price & Standard Online Price
Other Theme Park Experiences
Knott's Berry Farm has lots more to see and do than just its rides, though those are an integral part of the experience.
If roller coasters and water activities aren't your things, though, try one of the park's many attractions in 4 separately themed areas.
You can find kids' rides, thrill rides, attractions, and rollercoasters spread throughout the main park. As with the rollercoasters, we cannot highlight all attractions, but here's one that we think is worth checking out:
Attraction Highlight- Ghost Town Blacksmith
If thrilling rides aren't quite your jam, but a mine ride also seems like a bit too much for small kids, or after lots of theme park food, try out a beloved attraction, instead. You'll get the same feeling of being near the mine-based rides without the coaster park.
A fixture since the beginning of the park's life, the blacksmith will be making metal art and showing guests how metal can be forged to produce tools, branding irons, horseshoes, art, and more.
Pair this classic attraction with the Calico Mine Train Ride and its surrounding animatronic miners for an extra exciting experience surrounding the Calico Railroad and mine ride.
Chaperone Policy
The park instituted a chaperone policy on April 22, 2023, to try to curb any overly-unruly behavior and make sure that all families and individuals are able to have a truly enjoyable experience at the park.
Any guest that is 15 or under must have a chaperone that is at least 21 years old. One chaperone may be responsible for up to 10 younger guests, but no more than that.
Guests aged 16 and up may enter as usual.
The goal is to keep things safe, fun, and accessible for people of all ages while being mindful of how the park is run.
Places to Stay
If you are hoping to stay right on-site, as we recommend, the Knott's Hotel is the perfect place to turn a day trip into a full-weekend giveaway. Buena Park, in the Buena Vista area of California, is home not only to Knott's Berry Farm and its attractions but also to many other local gems.
The hotel is literally steps away from the Knott's Berry Farm theme park and happens to be a few-minute drive from many other popular Orange County locations if you want to do a bit more exploring in the general area.
In case you happen to be looking for a large event space, the hotel has that in addition to a fitness room and a large outdoor pool.
Enjoy the Ride
If Knott's Berry Farm makes its way into your SoCal trip itinerary, you are sure to have an unforgettable amusement park experience.
Enjoy rollercoasters, a waterpark, good food (at Knott's Chicken Dinner Restaurant,) lots of attractions, and fun for the entire family…no matter what age, thrill seeker or not.
Whether it is the Calico Mine Ride, Coast Rider, Ghost Town Blacksmith, Knott's Bear-y Tales: Return to the Fair, Calico River Rapids or Mine Ride, Dragon Swing, Timber Mountain Log Ride, Malibu Run, or one of the other many amazing, thrilling rides or attractions, you're sure to have a blast here.
Knott's Berry Farm rides are not only good when you are looking for a thrill ride or a popular ride (though the mine ride options are certainly notable) but also offer a great chance for some family fun in the sun.
Have you been to Knott's Berry Farm? Let us know if you think we missed anything extra special about what they have to offer on our socials at @sandiegodotcom.