Hotels Near LEGOLAND California
If you have kids, love Legos, or want to check out one of the coolest theme park/resort/aquarium spaces that Southern California has to offer, look no further than LEGOLAND California (Carlsbad, CA.)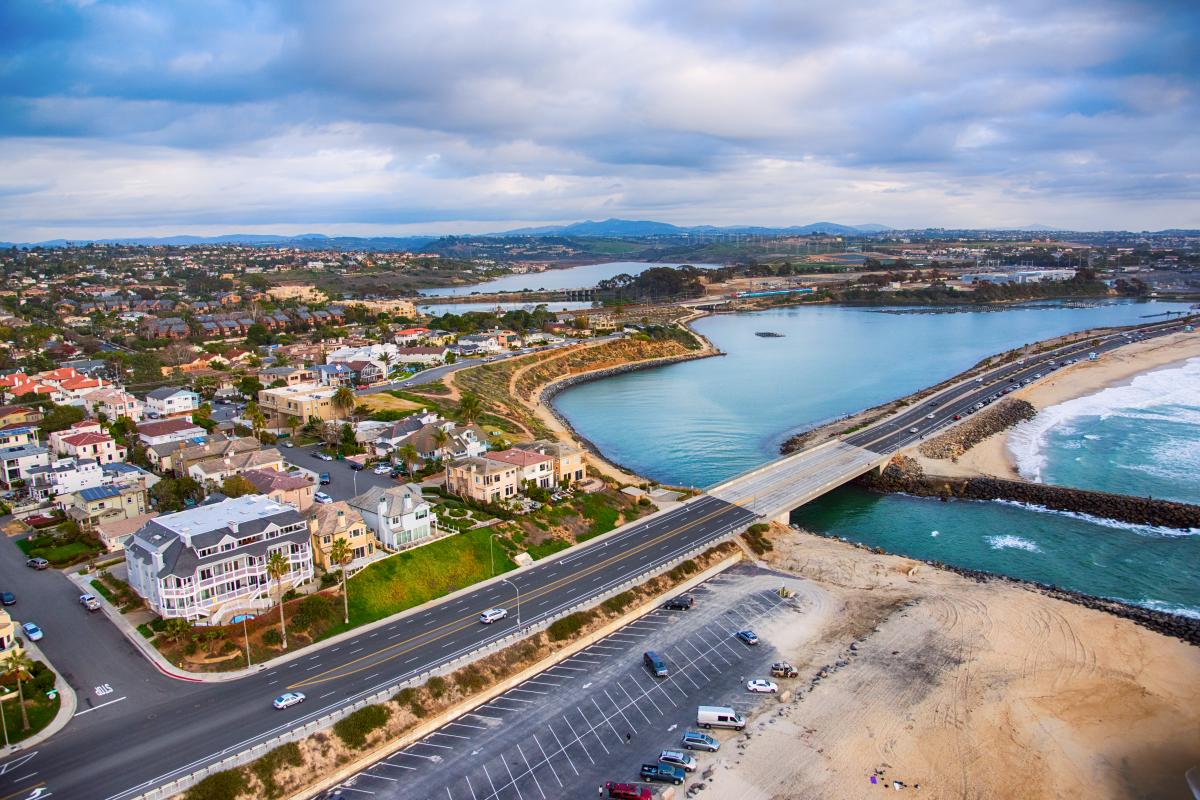 LEGOLAND California has two entire hotel spaces of its own, the LEGOLAND Hotel and the LEGOLAND Castle Hotel, respectively. As you decide whether you'd prefer to stay on-site for a fully immersive experience or if a nearby hotel might be a better fit, we'll go over these two hotels as well as four other options that are located in Carlsbad, and easily accessible from the park.
Ready to plan your visit to LEGOLAND California, from what you'll do to where you'll stay? Follow along, and we'll give you the inside scoop!
About Legoland California
Next-door-neighbors with great Carlsbad locations like the popular Flower Fields, and near other popular attractions like the San Diego Zoo Safari Park, LEGOLAND California is perfect for anyone who loves Legos, kids or otherwise. This is a popular resort, theme park, and aquarium space that all are sure to enjoy.
Don't worry that an older kid and a younger one might not both enjoy this experience, because there is plenty to grab even the pickiest of visitors' attention.
We do recommend checking out the LEGOLAND website to see if you want to get your tickets ahead of time, to check hours for specific attractions and seasons, and to help plan your visit, especially if there may be additional holiday events or activities to check out.
The general park space is open from 10 am to 5 pm daily, but specific areas of the park and on-site restaurants have hours that will vary, so it's worth an extra look!
Before we dive into the hotels, let's talk a little more about what you'll be coming to Carlsbad, California for…LEGOLAND itself!
Theme Park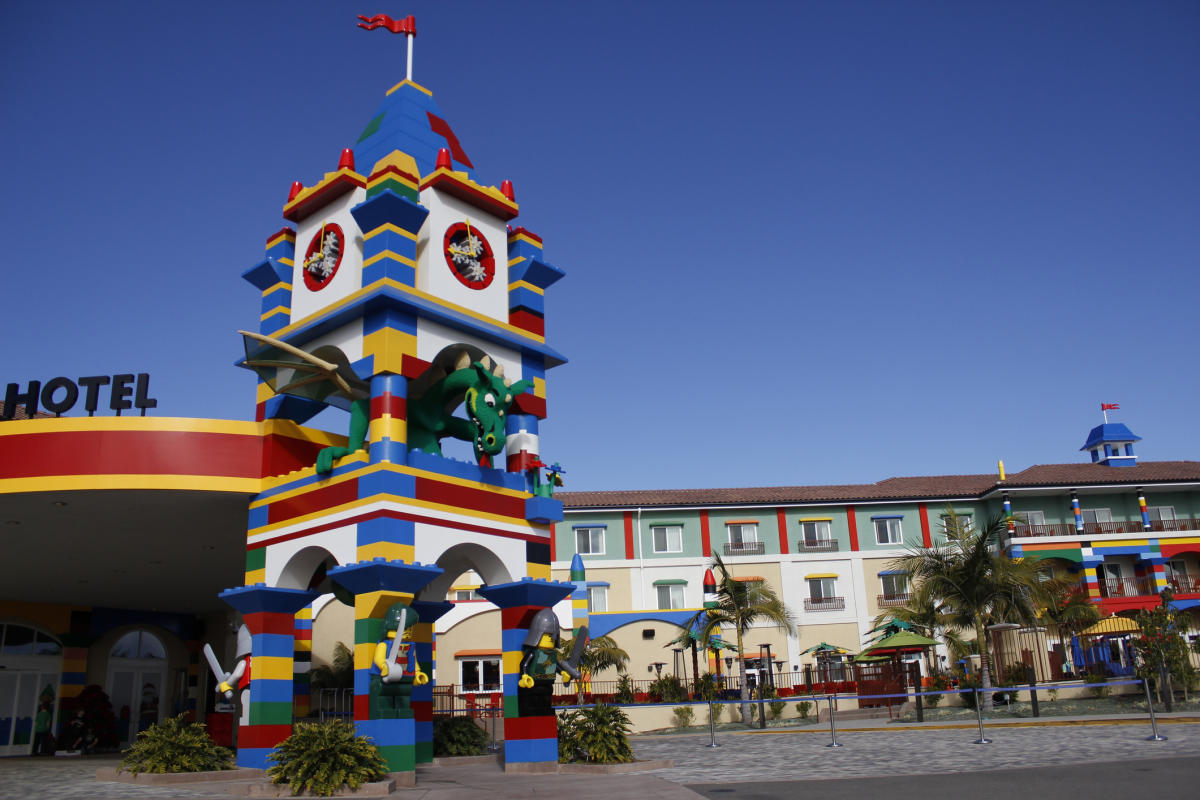 With over 60 kid-centric rides, shows, and attractions, kids 2-12 are the focus of the theme park. Again, though, anyone who loves Legos will love this world full of activities even if they're 'too old for this' (looking at you, older siblings!)
There's tons of yummy food, shopping, and things to keep you busy for days.
Water Park
Made up of 10 acres of water fun, this park has 7 water slides, a build-a-raft river, sandy beaches, and plenty of space to have fun in the sun. There's shade when you need it, space to relax, and great fun to be had.
SEA LIFE Aquarium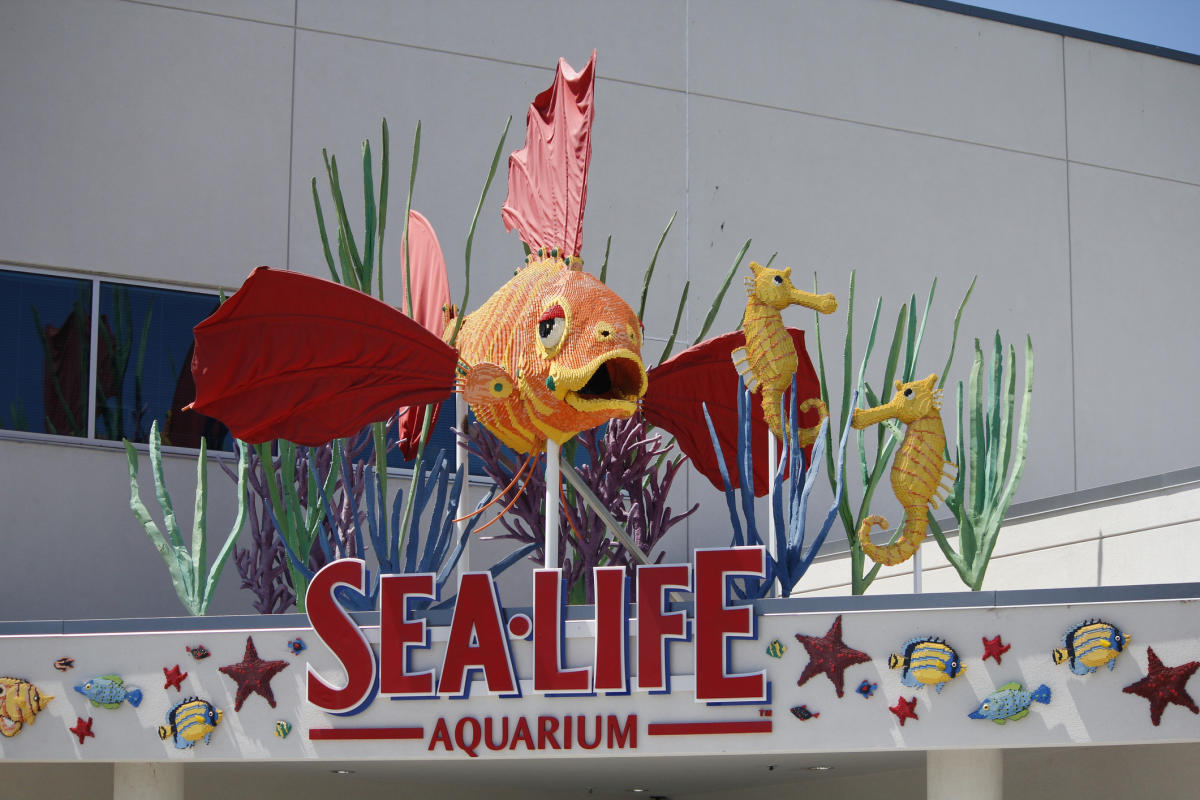 This aquarium is a very cool addition to LEGOLAND, offering an interactive look into sea life by providing hands-on learning activities, shows, and more. Even adults can learn about conservation through talks, seeing the sea creatures, and checking out exhibits.
Seasonal Events Galore
LEGOLAND has plenty of seasonal events to explore, and this could very well determine when you plan your visit to the park.
Things like Brick-or-Treat, Holidays at LEGOLAND, a kid's New Year's Eve event, summer block parties, and Red, White, and Boom! are some things that may draw you to LEGOLAND California.
Of course, during these peak times, you'll need to be even more prepared to find a hotel that suits you and your family.
LEGOLAND California Hotels (Extra Points for Free Breakfast!)
Luckily, with a location like Carlsbad, LEGOLAND California is within easy reach of popular hotels and resorts where you'll find things like free Wi-Fi, complimentary breakfast, a business center, and a pool. Hotels near LEGOLAND also tend to be located a convenient distance from things like the Pacific Ocean, restaurants, and even a shopping center known as the Carlsbad Premium Outlets.
So, let's dive into the top hotels we recommend for your stay near LEGOLAND California.
LEGOLAND Hotel
Not only is this one of TripAdvisor's Best Hotels for Families in the United States, but the themed hotel also has interactive LEGO features throughout so that it's like you never really left the park.
There is a full, hot breakfast buffet that is offered for free, and you can choose from your selection of LEGO-themed rooms like NINJAGO, LEGO friends, kingdom, pirate, or adventure rooms.
Located at the main entrance of LEGOLAND California, there is nightly kids' entertainment and easy access for parents to avoid driving to the hotel after a long day of LEGO activities.
With fun dining spaces, poolside cabanas, and plenty of other amenities, this might just be the place to be!
LEGOLAND Castle Hotel
Wait, there's another LEGOLAND California hotel?
With similar amenities to the LEGOLAND Hotel, like poolside cabanas, dining that includes a free breakfast, and themed rooms, this hotel goes above and beyond and sticks to a LEGO castle theme.
Choose one of 250 rooms, with knights & dragons, royal princesses, or magic wizard themes.
On top of a prime location, also at the entrance of LEGOLAND California, there are separate kids' areas to explore, a zero-entry pool, an entertainment courtyard, and plenty of surprises from hotel staff to make the experience extra special.
Family Vacation packages with LEGOLAND
With these two LEGOLAND hotel options, you can also build a vacation package, consisting of tickets, a hotel stay, exclusive early access to the park, and more. You'll pay a rate per individual, but the Family Vacation Packages might just be worth it for you and your family, depending on your needs, how much time you plan to spend at LEGOLAND, and what you hope to get out of your stay.
Other Hotels Near LEGOLAND California
Whether you just want any California resort, prefer the hotels at LEGOLAND California Carlsbad, or are looking for a last-minute room at one of many nearby California hotels, we want you to be prepared with the best stays in Carlsbad.
So, without further ado, our top 4 hotels near LEGOLAND that are not part of the park and resort itself.
Hilton Grand Vacations Club MarBrisa Carlsbad
Referred to most often as the 'Hilton Carlsbad' or "MarBrisa Carlsbad Resort', this 43-acre hotel is just across the street from LEGOLAND California, and even offers a private entrance into the park.
If you don't want to stay at a LEGO-themed hotel after days in the park, this certainly seems like a great next option! You'll be staying directly to the east of LEGOLAND.
The Hilton Carlsbad is also under 3 miles from the Carlsbad Premium Outlets and North Ponto Beach, so that the adults can have some fun, too.
With an outdoor pool, business center, on-site restaurant, concierge, fitness center, and more, you can expect a beautiful stay at the MarBrisa property.
Cassara Carlsbad
Also owned by Hilton, the Cassara Carlsbad is its own property on the opposite side of LEGOLAND California, just to the west of the park.
Due to its location, you're even closer to the Carlsbad Premium Outlets and the ocean. Not too shabby, if you ask us.
With a pool and splash pad for kids as well as an adult pool space, everyone is free to have the experience they desire at the Cassara.
With offerings like dining, fitness, and even a pet-cation package so you can bring your pup along, this is another stay that is a great balance for both adults and kids to make the most of their vacation.
Carlsbad By the Sea Hotel
Finally, just next to the Cassara Carlsbad, you can choose to stay at the Carlsbad by the Sea Hotel.
A slightly more budget-friendly option, this hotel is far from roughing it. With beautiful pool and golf course packages, you can enjoy the sun, and some quiet, and add relaxing elements to your kid-focused vacation. Don't forget that you deserve some downtime, too!
Oh, did we mention that AAA members also get 10% off of their stay here?
The shuttle service to LEGOLAND is the cherry on top of this hotel, though self-parking, a fitness center, a business center, and pet-friendly room options also add to the allure.
Amenities to Consider
When you're going to be spending your time exploring a place like Legoland, going to the beach, and maybe getting some golfing in, breakfast really is the last thing on your mind. Of course, most hotels, resorts, and even motels offer free breakfast, but we can tell you that the breakfast at these California hotels goes above and beyond.
You'll also have an amazing experience thanks to the hotel staff, and you'll be so glad to be near Legoland California, Carlsbad locations, and the ocean.
You may have the ability to ask for extra rooms, non-smoking rooms, an additional cot bed, or certain views, as well. This should all factor into where you choose to call home for your vacation, so make sure to keep the 'extras' in mind as you decide on a hotel near LEGOLAND.
Explore More of San Diego
There is so much to do and see all around San Diego, and North County where Carlsbad is located is certainly no exception.
With places like the Flower Fields in Carlsbad and the Zoo and Safari Park in Escondido, you can easily make your way to other North County attractions, regardless of where in Carlsbad you choose to stay.
On that note, you can also hit the beach, and head down to the communities of Encinitas and Cardiff for some great surf, beachside burritos, or yummy morning coffees. It's easy to try some new food in Del Mar's One Paseo or see the sea lions in La Jolla Cove.
No matter what you come for, let San Diego provide you with lots of exciting new experiences to add to your list of family memories for years to come. We know you'll love it here as much as we do.
Wrapping Up
Whether you stay in one of the LEGOLAND California hotels or pick one of the hotels nearby like the Cassara Carlsbad, Marbrisa Carlsbad Resort, the Hilton Carlsbad, or the Carlsbad by the Sea Hotel,