Located in the upscale seaside community of Del Mar in San Diego County, you'll find one of the nation's premier horse racing facilities; the Del Mar Racetrack. The Del Mar Racetrack is a one-of-a-kind racetrack with stadium seating and a waterfront location along the Pacific Ocean.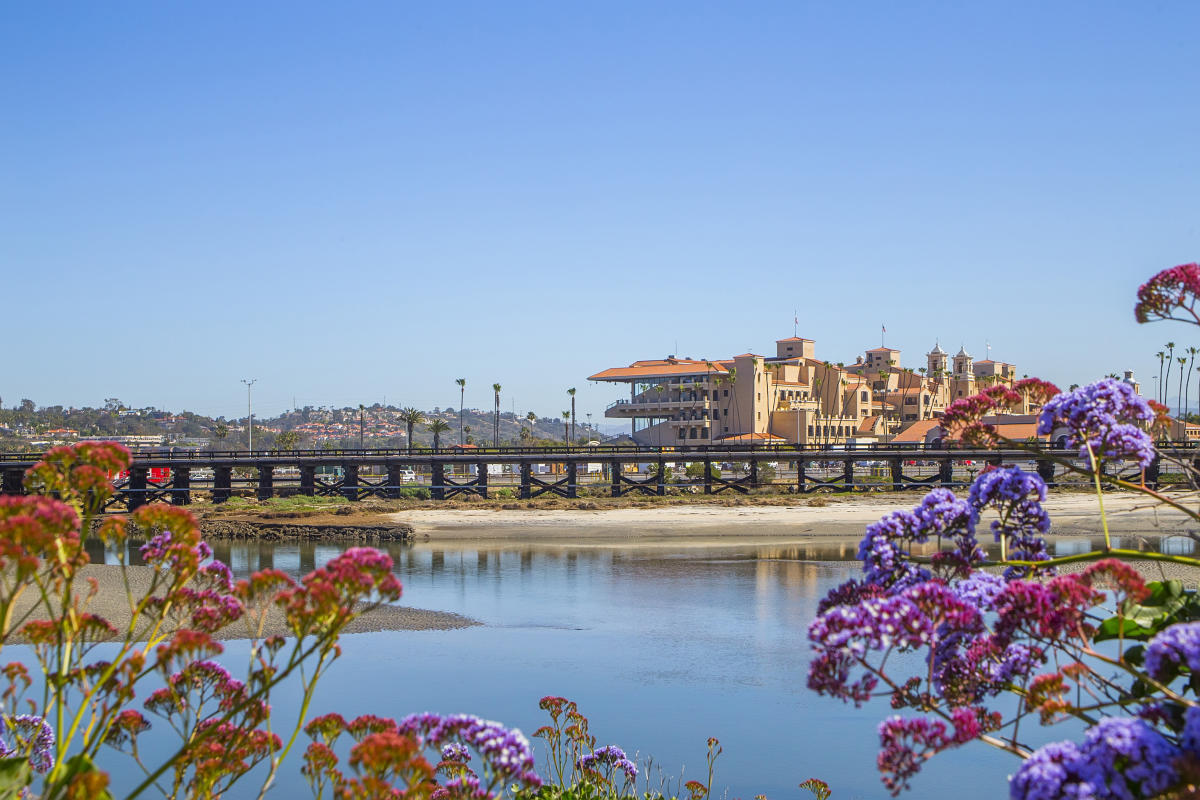 It's one of the most famous spots in the world to see a horse race, partially because a world-famous race between two champion horses took place there in the 1930s between Seabiscuit and another talented horse named Ligaroti from Argentina. Even if you aren't a horse racing fan, you've likely heard some of Seabiscuit's exciting history due to the 2003 sports film "Seabiscuit," which chronicles the life of one of America's top money-winning racehorses.
The Del Mar Race Track shares an address with the Del Mar Fairgrounds, where the San Diego Country Fair is held yearly, along with concerts and events. Whether you're visiting to take in the races or attend another popular event at the Del Mar Fairgrounds, you'll be pleased to know that there are a variety of excellent accommodations in the Del Mar area to fit your needs and your budget.
Let us help you plan the perfect trip to races with our guide to the best and closest hotels to the Del Mar Racetrack.
About the Del Mar Racetrack
The Del Mar Racetrack was built in the 1930s by the Del Mar Thoroughbred Club and the founding member Bing Crosby. It is attached to the popular Del Mar Fairgrounds, and together, they encompass 370 acres along the coast of the Pacific Ocean.
The Del Mar Thoroughbred Club continues to host thoroughbred horse races at the race track, and the 2023 season kicks off on Friday, July 21, at 11:30 am. After July 21, there will be races scheduled throughout the week until closing day on September 10.
Address: 2260 Jimmy Durante Blvd, Del Mar, CA 92014
Del Mar Fairgrounds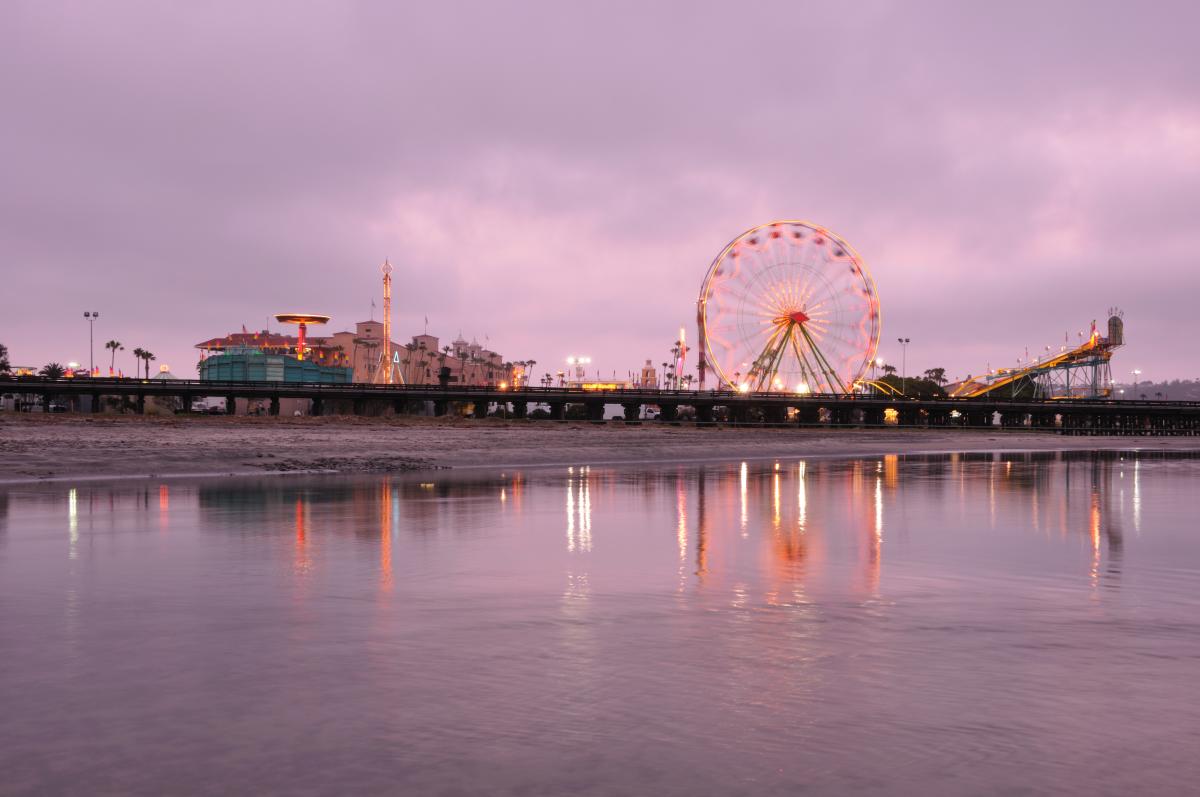 Attached to the Del Mar Racetrack, you'll find the Del Mar Fairgrounds, which is the permanent home of the San Diego County Fair - previously known as the Del Mar Fair. The San Diego County Fair runs from June 7 through July 4 and attracts around 1.6 million visitors each year.
Along with classic fair activities, the Del Mar Fairgrounds also hosts the Toyota Summer Concert Series, which allows fairgoers to purchase tickets to see both internationally touring musicians and excellent local acts.
Throughout July 2023, there are a few more concerts scheduled, including Blue Oyster Cult, Steep Pulse, and Cowboy Junkies. Keep an eye on the events calendar for more great live music and events!
Visiting Del Mar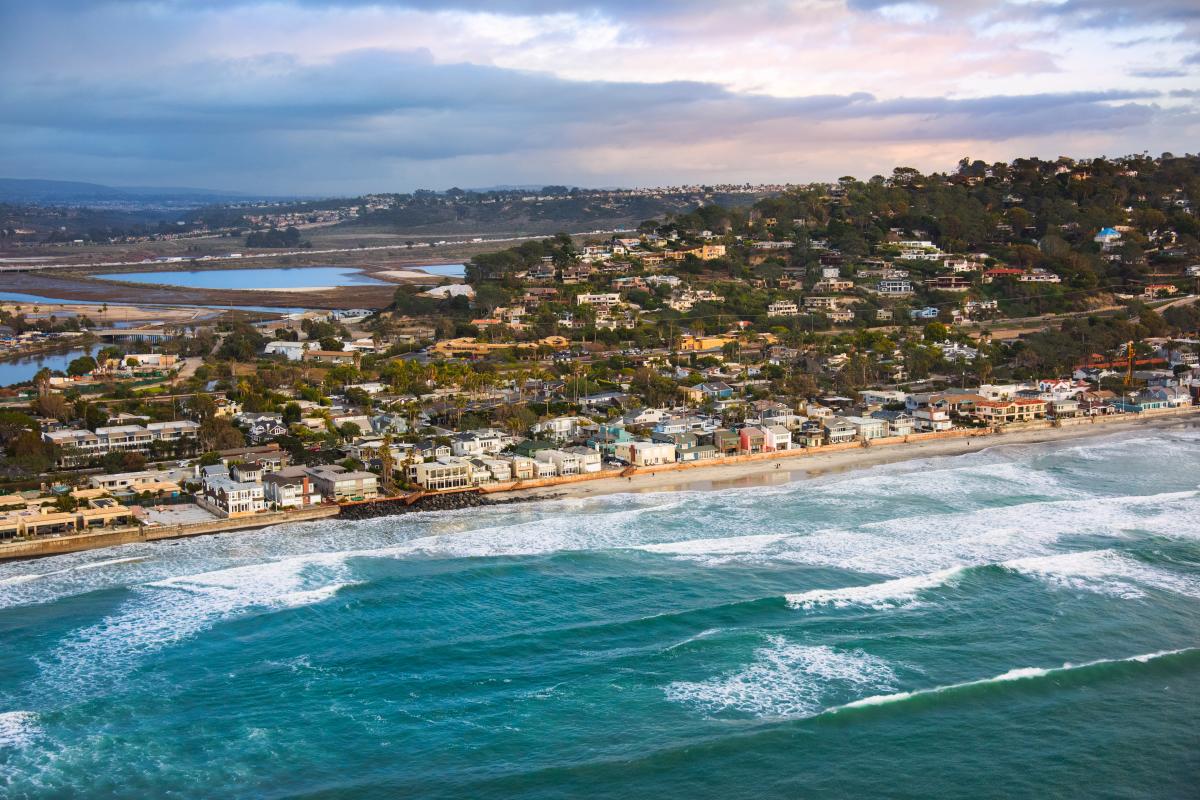 When you aren't catching a horse race at the Del Mar Racetrack or jamming out to some live music on the Fairgrounds, you'll find plenty of fun things to do around Del Mar. Located about 25 minutes from downtown San Diego, Del Mar is one of the country's most beautiful and affluent communities. You'll be able to visit beautiful beaches, dine at delicious restaurants, hike, and visit unique boutiques and shops, all within a short drive from the racetrack.
Solana Beach Del Mar is a popular sandy beach with great surfing. It's the perfect place to pack a picnic lunch and spend the day soaking up the California sunshine. For those who love golf, the Torrey Pines Golf Course is only 10 minutes away by car. Torrey Pines State Natural Reserve offers beautiful hiking and outdoor recreation opportunities. If you're feeling like a thrill-seeker, you can even try out flying at the Torrey Pines Gliderport. Cardiff by the Sea is another great place to have a beach day and can be reached in under 15 minutes.
If you're willing to travel a bit further other incredible San Diego attractions are all within about 30 minutes from Del Mar. Check out the famous San Diego Zoo, or plan a museum day at Balboa Park. Cruise the coast to the seaside community of La Jolla and check out the sea lions and seals relaxing on the rugged rocky coastline.
Del Mar Racetrack Hotels
Now that you know about all of the amazing things to do on a visit to Del Mar, you're probably curious about which of the popular hotels near the Del Mar Racetrack to book your accommodations. There are plenty of options - from budget-friendly chain hotels to luxury accommodations.
We've narrowed down our list to the top 6 hotels near Del Mar Racetrack, with options for every budget.
Les Artistes Inn
Address: 944 Camino Del Mar, Del Mar, CA 92014
Les Artistes Inn is a small boutique hotel with just 12 rooms. There is a lovely courtyard with a fireplace that is perfect for enjoying the warm San Diego weather. The artsy rooms have either garden or ocean views and amenities like free WiFi and sitting areas. It's a 15-minute walk to Del Mar City Beach and an 8-minute drive to the Del Mar Racetrack.
Room prices start at around $165 per night.
L'Auberge Del Mar
Address: 1540 Camino Del Mar, Del Mar, CA 92014
L'Auberge Del Mar is a 4-star luxury hotel located right in the heart of Del Mar. It's perfect for travelers looking for an upscale experience or a romantic getaway. The hotel has beautiful views of the Pacific Ocean and plenty of onsite amenities like a full-service spa. There are also dining options, bars, tennis courts, and an outdoor pool with views of the ocean.
Rooms start at around $322 per night.
Del Mar Beach Hotel
Address: 1702 Coast Blvd, Del Mar, CA 92014
This beautiful hotel overlooks the Pacific Ocean and is only a 7-minute drive from the Del Mar Racetrack. It's the perfect place to relax on the beach after enjoying the races, as the hotel offers beach chairs, boogie boards, beach towels, and umbrellas. There is a large deck for soaking up the sun and outdoor barbecues if you fancy a home-cooked meal during your stay at the beautiful hotel.
Rooms start at around $284 per night.
Holiday Inn Express Hotel & Suites Solana Beach-Del Mar, an IHG Hotel
Address: 621 Hwy 101, Solana Beach, CA 92075
If you're searching for budget-friendly accommodation close to the racetrack, Holiday Inn is a great choice. There is an outdoor pool, free WiFi, a fitness center, and comfortable rooms, all at an economical price. You'll be close to everything from the racetrack to the beaches.
Best of all, rooms start at just $127 per night.
Rancho Valencia Resort
Address: 5921 Valencia Cir, Rancho Santa Fe, CA 92067
If you're willing to head inland for about 15 minutes, check out the relaxing Rancho Valencia Resort and Spa. The experience at this upscale resort is all about relaxation. Enjoy a full-service spa and healthy, locally sourced food. There are yoga, pilates, and fitness classes available for guests daily. After your spa treatment, relax at the poolside bar while sipping on a craft cocktail.
Rooms start at $850 per night.
Fairmont Grand Del Mar
Address: 5300 Grand Del Mar Ct, San Diego, CA 92130
No one does luxury quite like Fairmont, and the Del Mar Hotel is no exception. The property might be one of the most beautiful in San Diego. Guests can enjoy dining at a Michelin-starred restaurant, hiking on beautiful trails, relaxing at the spa, and genuinely soaking up the upscale luxury. This property also has villas for rent with giant jacuzzi tubs and private terraces.
Rooms start at $747 per night.