Living in San Diego means access to mountains, the beach, Los Angeles, and yes, even Mexico! The popular border city of Tijuana lies just on the other side of southern San Diego's Imperial Beach and Chula Vista areas. This is the perfect spot for a day trip filled with food, drinks, and some exploring.
A day trip to Mexico couldn't possibly get much easier than crossing the border to go San Diego-Tijuana. With multiple entry points and a manageable crossing time, spending the day in TJ is not only simple but offers access to the great food and experiences that set this city apart.
Whether you're a local looking for a getaway or a visitor hoping to add this popular tourist destination to your list, make sure you have a valid passport and get on your way to seeing the Zona Centro and Playas de Tijuana.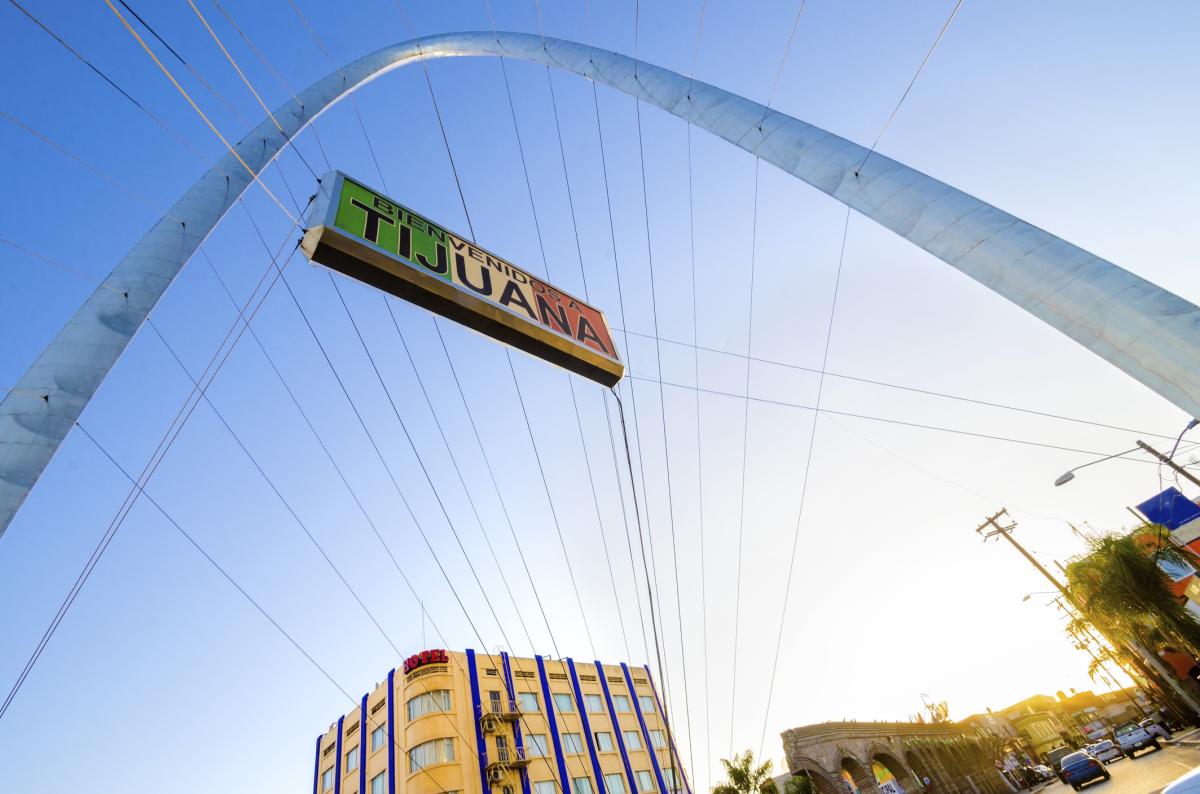 Mexico's Baja California
When you hear Baja referred to, you might be a bit confused at first. After all, doesn't 'Baja' just mean under? So, of course, Mexico is 'under California.' This is correct, Baja California is the name of the entire state in Mexico that is below California. This westernmost peninsula of Mexico is broken up into the northern state of Baja California and bordered to the south by Baja California Sur (meaning simply, the southern portion of the area below California.)
To the west, of course, is the Pacific Ocean, and to the east lies the Gulf of California and the rest of the country of Mexico's main landmass. The port of Ensenada and the nearby wine country in Valle de Guadalupe create a big draw to this Mexican state, bringing in tourists and locals from both the United States and Mexico.
Perhaps you're most familiar with the popular Cabo San Lucas beach resort town, however, which sits at the southernmost tip of this entire Baja peninsula. Of course, today we are focusing on the northernmost city in Baja California, the equally popular Tijuana. At least, equally as well-known as Cabo among the residents of Southern California, that is.
Baja California has so much to offer, and we encourage you to check out things like the best wineries in Valle de Guadalupe, which can also be experienced as a day trip from San Diego via private tour or individual travel.
Visiting Tijuana
If you appreciate Mexican cuisine, good beaches, and Mexican culture, visit Tijuana. You are sure to make your Tijuana trip enjoyable with Mexican food, Tijuana tours, craft beer, and easy access back to downtown San Diego via the San Ysidro trolley station. It can be refreshing to grab street tacos and shop with market vendors before visiting a museum or grabbing a drink and hitting the beach. Really, anything you imagine for your day in Mexico, Tijuana will be waiting to offer.
Food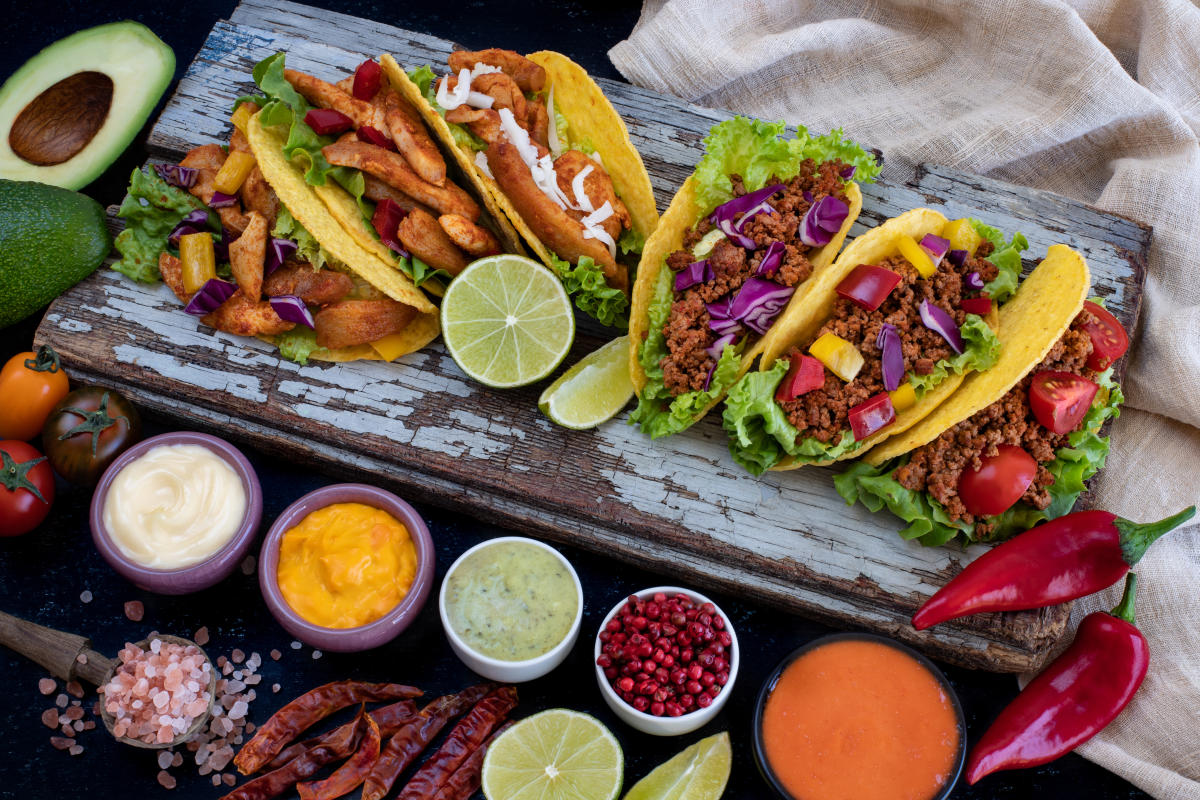 From the Zona Centro, Tijuana's downtown area, you'll find yourself within easy walking distance to Telefónica Gastro Park. This is a spot full of variety, from food vendors to drinks offered at the bar. You'll have your choice of meat, seafood, and veggie options across multiple styles of food.
You don't need a tour guide or public transportation to get access to a plethora of popular Tijuana cuisine.
You'll first walk into an outdoor dining space lined with food stands on each side. Stay here, or head inside under the terraced steps to check out the bar and additional indoor vendors, serving coffee, sandwiches, cheeses, and other smaller bites.
You can eat inside, in the main outdoor dining area, or head up the main stairs to the upstairs balcony where you'll have a view of both the gastro park and some of downtown Tijuana. We recommend this option- you'll get some sun, some views, and it's often less crowded upstairs.
Enjoy a Mexican lunch with fish tacos, a refreshing hoppy treat, and some other food and drinks of your choosing. You can get a fantastic tour of Tijuana's yummy food without doing too much walking. Of course, there are countless restaurants, food trucks, market vendors, and food tastings in Tijuana that will give you near-equal access to great food. Stopping at a standalone local restaurant will also, of course, give you insight into normal life as you explore Tijuana.
You should be sure to check out Avenida Revolucion in the heart of TJ's tourist center district. Here, you'll find Mexican street food trucks, shops, bars, and plenty of street performers.
Art
East of the downtown, in Zona Río, sits the Tijuana Cultural Center, also referred to as CECUT (Centro Cultural Tijuana.)This museum has both indoor and outdoor space to explore, as you learn more about Tijuana, its history, and its culture, through the art that is displayed on-site.
There are a few different buildings to explore, from the main gallery space where photography, paintings, statues, and other mediums are often showcased, to the IMAX dome, aquarium, and more. You'll find various theatre rooms and spaces where lectures, performances, and other educational shows are hosted.
We cannot forget about the planetarium, the outdoor sculpture garden, and the exhibits of rotating art that come through this cultural center. If you are there at the right time, you may just see a show in the small outdoor amphitheater. Otherwise, guests have been known to put on a bit of a show themselves, utilizing the outdoor stage and limited seating area on a whim with friends. You may learn more from an official show or event, but an impromptu concert is certainly just as much fun.
This space does a wonderful job of feeling small and accessible while really holding an expansive number of areas to showcase local art and culture. If you only have one day in Tijuana, this is a must-see. In fact, this can easily be your main attraction!
For local art that you can buy, we recommend Mercado Hidalgo. Full of food, crafts, and other souvenirs, it is the perfect place to dive just a little deeper into what makes Tijuana the way it is.
Drinking
Near downtown, not far from the Cultural Center, is the club known as El Alebrije. Though you'll see many people from the United States here, including those who may not yet have reached the legal U.S. drinking age of 21 yet, there are also a fair number of locals that frequent this spot.
From ladies' nights (where girls drink completely free) to events, El Alebrije offers a fun clubbing experience. If they're extremely busy, you may need to grab a table, but otherwise, head to the bar and dance the night away. You can always enter back into San Diego and take an Uber to your destination if it gets too late for the trolley. (The northbound Blue Line trolley runs from about 4:30 am to 10:30 pm.)
There are, of course, plenty of other ways to grab a drink. Hit a cocktail bar like Cereus Bar or Bar Bachano, grab some drinks with your food at a restaurant, or even try a coffee bar that turns into a bar with alcohol as the day gets later.
Beaches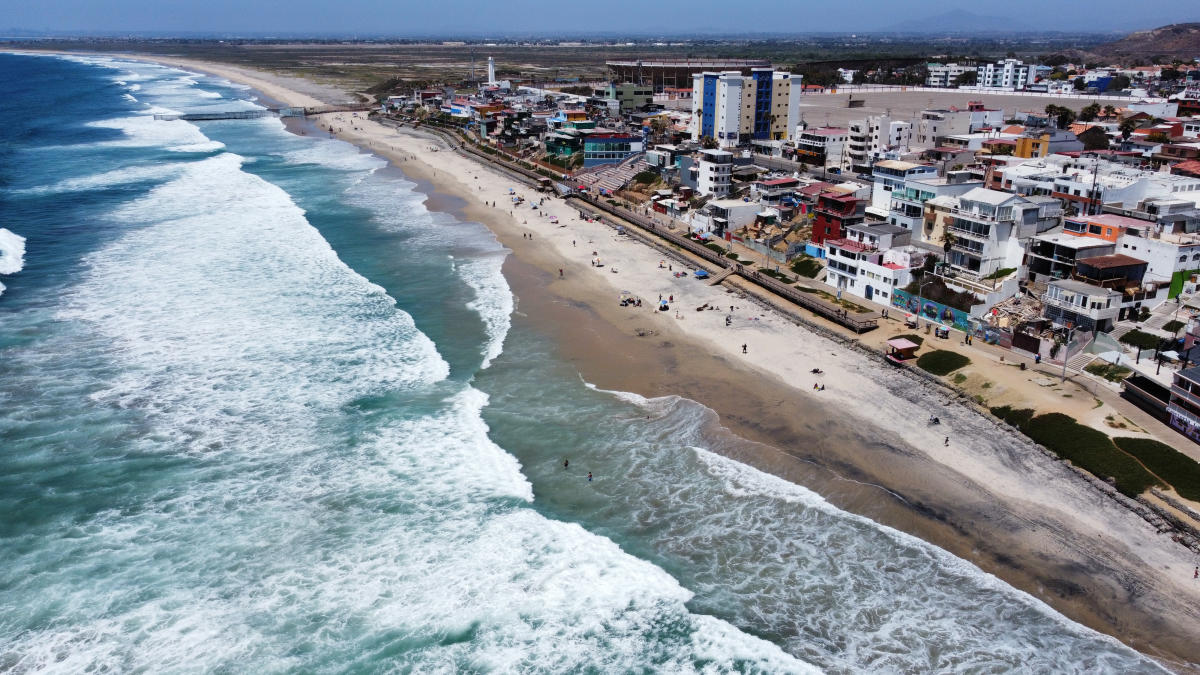 The great eats and bustling nightlife are not Tijuana's only draws, however. The beaches, or Playas de Tijuana, are well-known for being both beautiful and close to the city center. The main beach in Tijuana itself is called, plainly, Playas de Tijuana. Baja Malibu is a popular spot for surfers to catch waves right below the main beach, though its sandy area can be a bit crowded on weekends.
20 minutes south of the city, you'll find Playas de Rosarito, and, 45 minutes south are the beaches near La Fonda.  If it's just a day trip from San Diego you're after, we recommend the beaches in Tijuana itself. The water is mere minutes from the city center and makes for a fantastic beach day without having to get too far down the coast.
About the San Ysidro Border
The San Ysidro Port of Entry, the main border crossing zone, is considered the busiest international border crossing by land in the world. It may seem hard to believe, but when we consider individual (by foot) and vehicular crossings from the U.S. to Mexico and vice-versa, this makes sense.
It is quite common for people from both sides of the border to commute back and forth for business, family, and other things on a daily or weekly basis. Since its establishment in 1970, the entry point has drastically expanded to see over 90,000 daily commuters cross the border between the two neighboring cities of San Diego and Tijuana. Per year, the San Ysidro border crossing sees over 106 million individuals cross, supplemented by another 48 million cars and trucks.
This is similar to how LA locals from downtown might go to Glendale daily for work or to visit relatives. Tijuana just so happens to be across an international border.
San Diego's 3 Border Crossing Locations
There are 3 different ports of entry between San Diego and Tijuana, and each serves a different purpose.
San Ysidro Land Port of Entry
As the largest, most easily accessible port of entry, San Ysidro is what people most often refer to if they are talking about crossing the border into TJ. Most visitors going to Tijuana, Ensenada, Puerto Nuevo, or anywhere else for the day will likely use this port of entry.
Though this is the busiest entry point, it is the one that is easy to get to without a car, gets you exactly where you'll want to be for a day trip, and is overall your best choice.
Otay Mesa Border Crossing
The Otay Mesa border crossing is more out of the way, which makes it much faster to cross but less convenient for those looking to pass from central San Diego to central Tijuana.
You can get to this crossing point via the I-5 or I-805, but it is much more difficult to access from the Tijuana side. If it is possible to exit via the San Ysidro Port of Entry as you leave Tijuana, that will be a simpler route.
CBX (Tijuana Airport) Border Crossing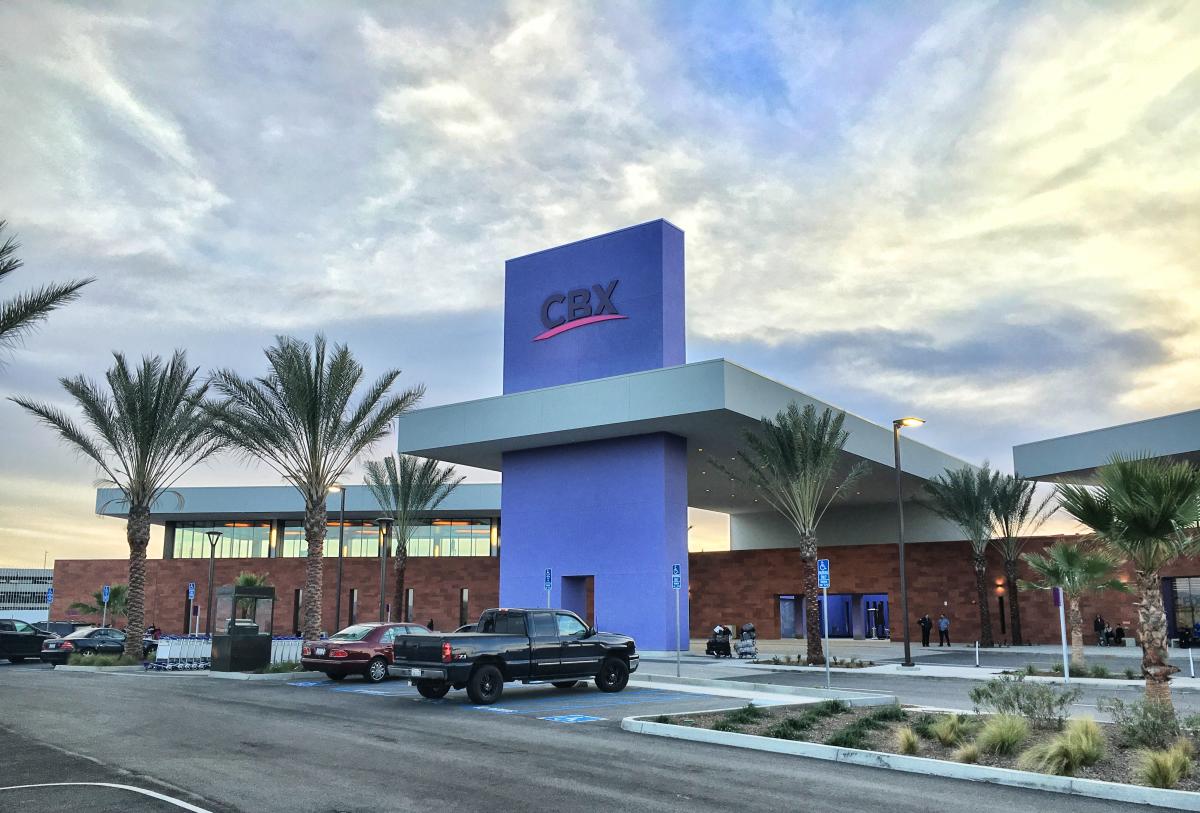 Though technically your third crossing point between the U.S. and Mexico via San Diego and Tijuana, the CBX, Cross Border Xpress, only services those traveling through the Tijuana airport. In fact, nobody without a valid ticket, identification, and a certain amount of time before their flight will be allowed entry.
Though this won't work for a day trip, keep it in mind for any future trips you might plan to Mexico where you fly out of Tijuana (which is much cheaper than using San Diego International Airport to fly to Mexico.)
Going through the San Ysidro Border Crossing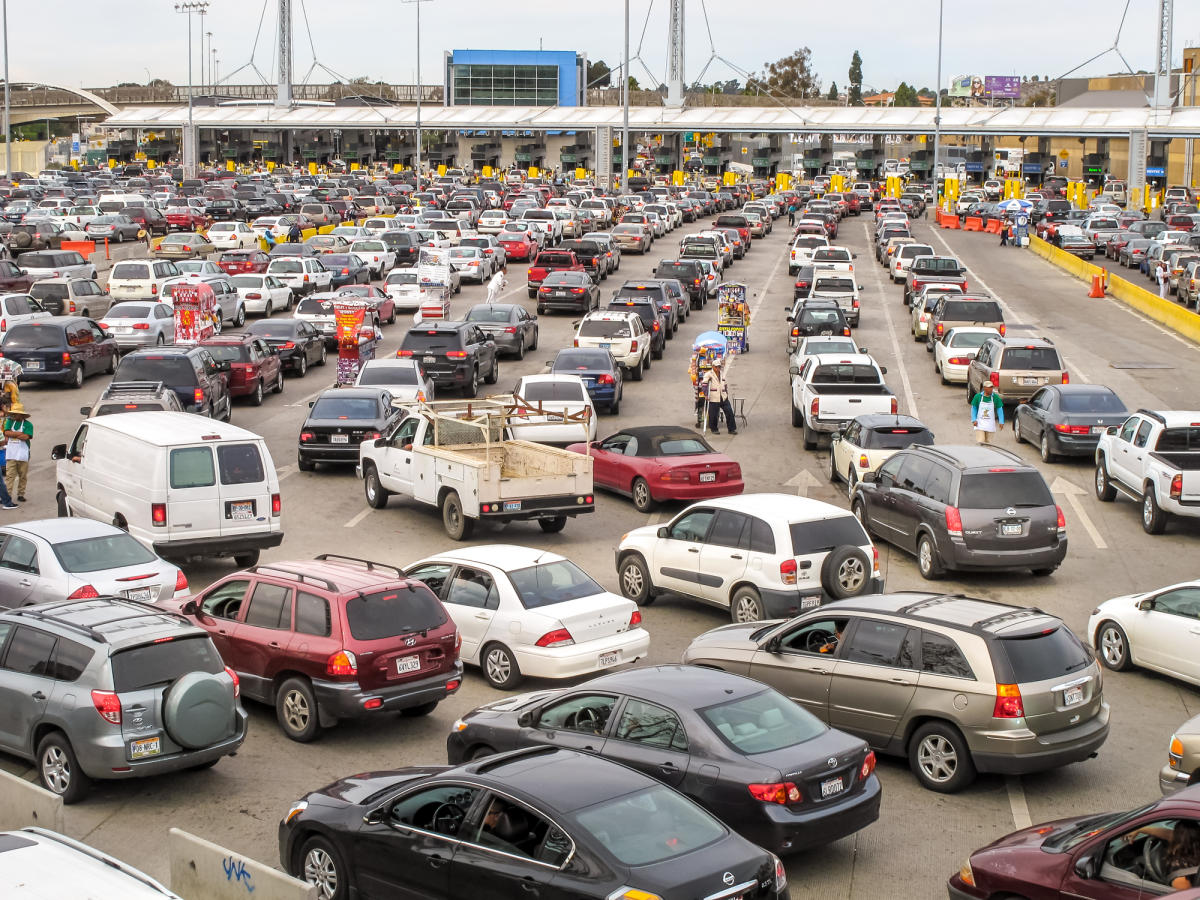 Likely, you are going to take the San Diego trolley down to the border so that you don't have to mess with bringing your car down and parking for the day in Tijuana. You can easily begin at the downtown Santa Fe Depot and hop on the Blue Line, whose final stop is the San Ysidro border, to ride the trolley right up to the border entrance.
Really, this might be one of the easiest, best parts of San Diego's public transportation system. The trolley won't take you to the beaches, but it will take you all the way to Mexico!
In our book, that is a win. Essentially, you have round-trip transportation to Tijuana from San Diego (and back.) If you choose to go via public transportation, you'll go through the San Ysidro Port of Entry on foot and then follow your personal plans to see Tijuana from there.
This is the easiest method of entry by far and will allow you to take a taxi, Uber, bus, or walk to your destinations in Tijuana. You're dropped off right above the downtown area and have immediate access to nearly everything you could need.
However, what if you do choose to drive?
This will mean you have to deal with driving and parking in Tijuana, but if you're planning to hop around beaches or want more of a road trip without the need to take a bus, a car could be your best bet.
Getting to the San Ysidro Border from San Diego
On that note, how will you get yourself to the San Ysidro Port of Entry? 
Drive down the I-5 in San Diego until you reach the end of the road, which turns into the El Chaparral vehicular entry section of the San Ysidro border crossing. The signs for 'International Border' will help easily guide you along.
Of course, this is not the only way to get from San Diego to Tijuana by land. Depending on where you are coming from, you may find it may be faster or more convenient to cross through the Otay Mesa Port of Entry.
Using the Otay Mesa Port of Entry
The Otay Mesa neighborhood in San Diego turns into the Otay Centenario borough of Tijuana, each being accessed by the Otay Mesa Port of Entry. This is your other option when it comes to crossing into Tijuana for a day trip.
The popularity of the San Ysidro Port of Entry means that there are often long lines to wait in to cross between countries. You may need to take some time getting to Otay Mesa, but it could be convenient if you are looking for a specific sort of trip and feel comfortable navigating from this border section.
Can You Use the San Diego Cross Border Xpress (CBX)?
The San Diego Cross Border Xpress (CBX) is a pedestrian bridge connecting the U.S. and Mexico and is only meant to be used by those accessing the Tijuana airport.
If a day trip to TJ is what you're looking for, the CBX won't work for you.
If, however, you intend to fly somewhere else in Mexico via the Tijuana International Airport and wish to skip the lines found at the San Ysidro and Otay Mesa land crossing points, this is the perfect option for you.
Only those with valid airline tickets to fly through the Tijuana airport will be allowed to use the CBX.