San Diego is known for its sandy beaches along the Pacific Ocean, outdoor destinations, perfect Southern California weather, and an exciting downtown scene. The entire region is often lumped together with the city of San Diego– but there are 18 cities that make up the greater San Diego area. 
The city of San Diego is just one of San Diego County's major cities - and each one of them is worth exploring! The region encompasses plenty of smaller towns and neighborhoods that each have their own unique flavor and flare. 
If you're visiting the San Diego Metropolitan area, chances are, you'll find yourself in some of the other incredible cities within San Diego County. We've created this extensive guide to help you make the most out of your time here. Whether you're visiting as a tourist, or looking to move to San Diego long-term, this guide will help you get your bearings as you explore the greater San Diego area. 
Introduction to San Diego County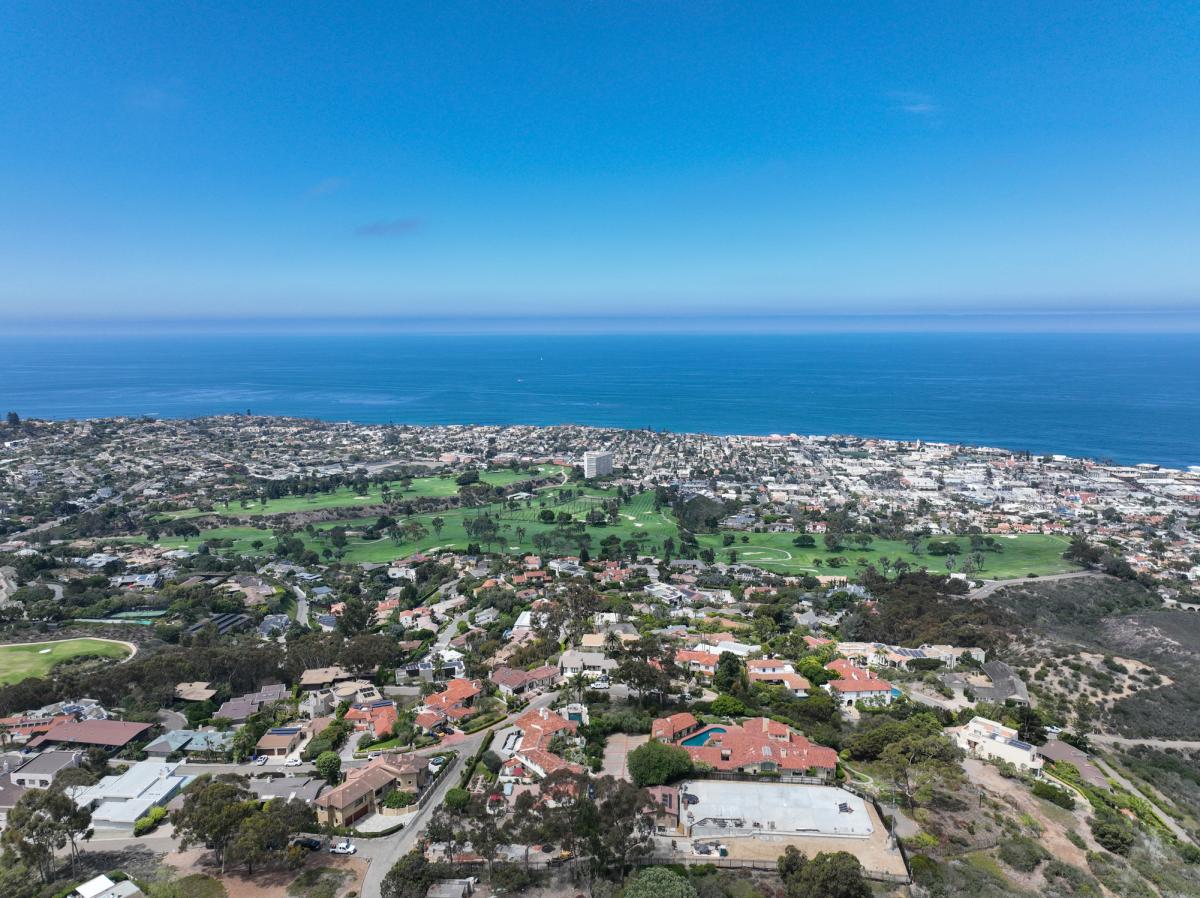 Located on the southwest tip of Southern California, San Diego County is one of the most populated counties in the United States of America. It currently ranks as the 5th most populous county in the country. Despite its huge population, its area is relatively small. It is only the 84th largest county in the United States, and the 10th largest in California – despite being California's second most populated county.
San Diego County is bordered by Orange County and Riverside County to the North. Imperial County borders San Diego County to the East. Head West and you'll hit the Pacific Ocean. Head East and you'll reach the border of Mexico. There are three border crossings to Mexico within San Diego County.
San Diego County is also a major hub for the United States military. The Navy's principal location on the West Coast for Pacific Ocean operations is in San Diego and it's the home to the Pacific Fleet. It's also the primary training center for Navy SEALs. The Marines also have a presence in San Diego - Camp Pendleton is the West Coast base for and the prime amphibious training base. With such an impressive presence, it is easy to see why so many military families choose to live here. 
There are four distinct regions within San Diego County which include East County, Central San Diego, North County, and South Bay.
East County
East County includes all of the areas to the east of San Diego (the city) and encompasses the cities of Santee and El Cajon as well as plenty of surrounding rural communities.
Central San Diego
This region includes the majority of San Diego (the city) along with the city of Coronado. This area has the highest population within San Diego County. Central San Diego County also includes part of the expansive Cleveland National Forest, which extends into Riverside, Orange, and San Diego counties.
North County
Northern San Diego County is the second most populated area within San Diego County and includes some of the most high-end and desirable neighborhoods in the region, like La Jolla. North County is divided even further into coastal and inland North County. This area is famous for its gorgeous beaches and includes the cities of Del Mar, Oceanside, Encinitas, Carlsbad, Vista, Solana Beach, and San Marcos.
South Bay
South Bay includes the cities at the end of the bay in San Diego County. This area includes part of San Diego (the city) along with Chula Vista and Imperial Beach.
San Diego County history
Originally, the area that now makes up San Diego County was inhabited by indigenous people, long before any European countries attempted to colonize the area. The first people to settle in San Diego were members of the Kumeyaay Nation. They made their homes amongst Southern California's oceans, mountains, and desert landscapes. 
Archeological evidence shows that the Kumeyaay people inhabited the land more than 10,000 years ago. Once European colonizers arrived the Kumeyaay people were forced off their land. Today, 13 reservations remain in San Diego County.
Spain was the first European nation to colonize the region, having staked a claim on it as early as the 1500s and dubbed the region San Miguel. The area that now encompasses the harbor and the current-day neighborhoods of Point Loma and Mission Bay was named for a Spanish missionary and saint, Saint Didacus, also known as San Diego. By the time the mid to late 1700s rolled around the first European settlements began to grow along the West Coast, and San Diego County was no exception.
Decades later, Mexico declared independence from Spain, and San Diego was considered part of Mexico in 1821. After the Mexican-American War in 1848, San Diego County became part of the United States and was one of the first counties in California. California became an official U.S. state two years later.
San Diego County's climate and geography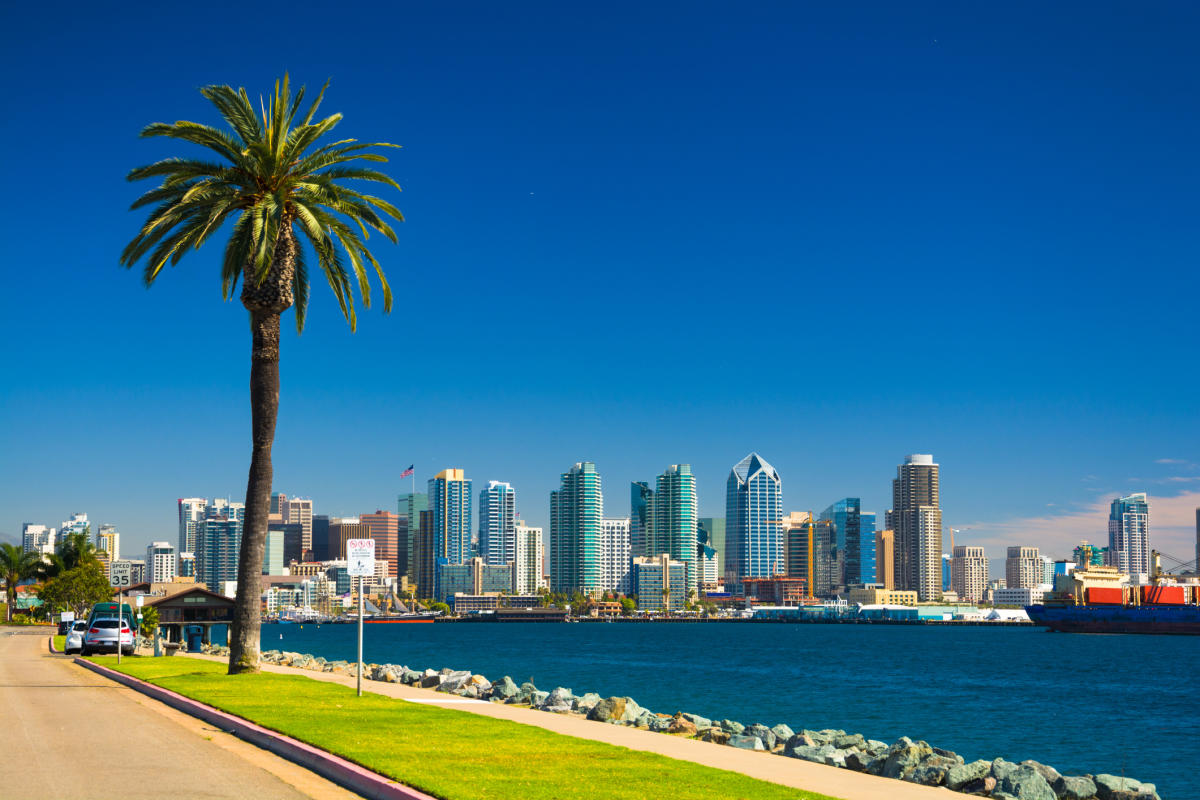 One of the reasons locals and tourists love the San Diego region so much is the beautiful weather and diverse landscapes. San Diego's geography is incredible and includes rugged mountains, expansive deserts, and pristine beaches.
San Diego County has a mild Mediterranean climate that borders on an arid climate. Certain regions, such as East County, are considered to have more of an arid climate.
The western border of San Diego County is the Pacific Ocean. During your trip to San Diego County, you'll have the opportunity to enjoy more than 70 miles of gorgeous beaches along the coast, which includes the 12-mile-long San Diego Bay, a pristine natural harbor.
Head east in San Diego County and you'll reach the Laguna Mountains. The climate is significantly cooler in this area due to the elevation. This region experiences more precipitation and even snow. Continue past the mountain range you'll find the more arid climate – the Sonoran Desert.
If you head northwest in San Diego County you'll run into some incredible nature preservations including Cleveland National Forest and Anza-Borrego Desert State Park.  
How fast is the San Diego County population growing?
How Fast Is the San Diego County Population Growing?
While the Covid-19 pandemic caused some San Diego County residents to move to other regions of the country, new census bureau data appears to indicate that the population of San Diego County is growing once again. Between 2019 and 2020 the county had a population decline and the population dropped by around 1%.
The recent population increase aligns with the trends from the past decade. Between 2010 and 2021 the population in San Diego County increased 8 out of the 11 years. In the past few years, the population has been growing again. Between 2021 and 2022 the population increased by .65%. Between 2022 and 2023 the population increased by .73%.
Which cities are in the greater San Diego area?
Within San Diego County there are 18 incorporated cities. Each city contains its own distinct features and unique neighborhoods. If you're considering relocating to San Diego, make sure to check out our guide to the best suburbs in San Diego!
What is the most populous city in San Diego County?
The most populated city within San Diego County is the city of San Diego. In fact, San Diego is actually the second largest city in all of California. San Diego (the city) includes many of the county's top tourist attractions like Balboa Park and the San Diego Zoo. There is an amusement park, stunning beaches, museums, botanical gardens, arts, live music, and so much more to experience within America's Finest City!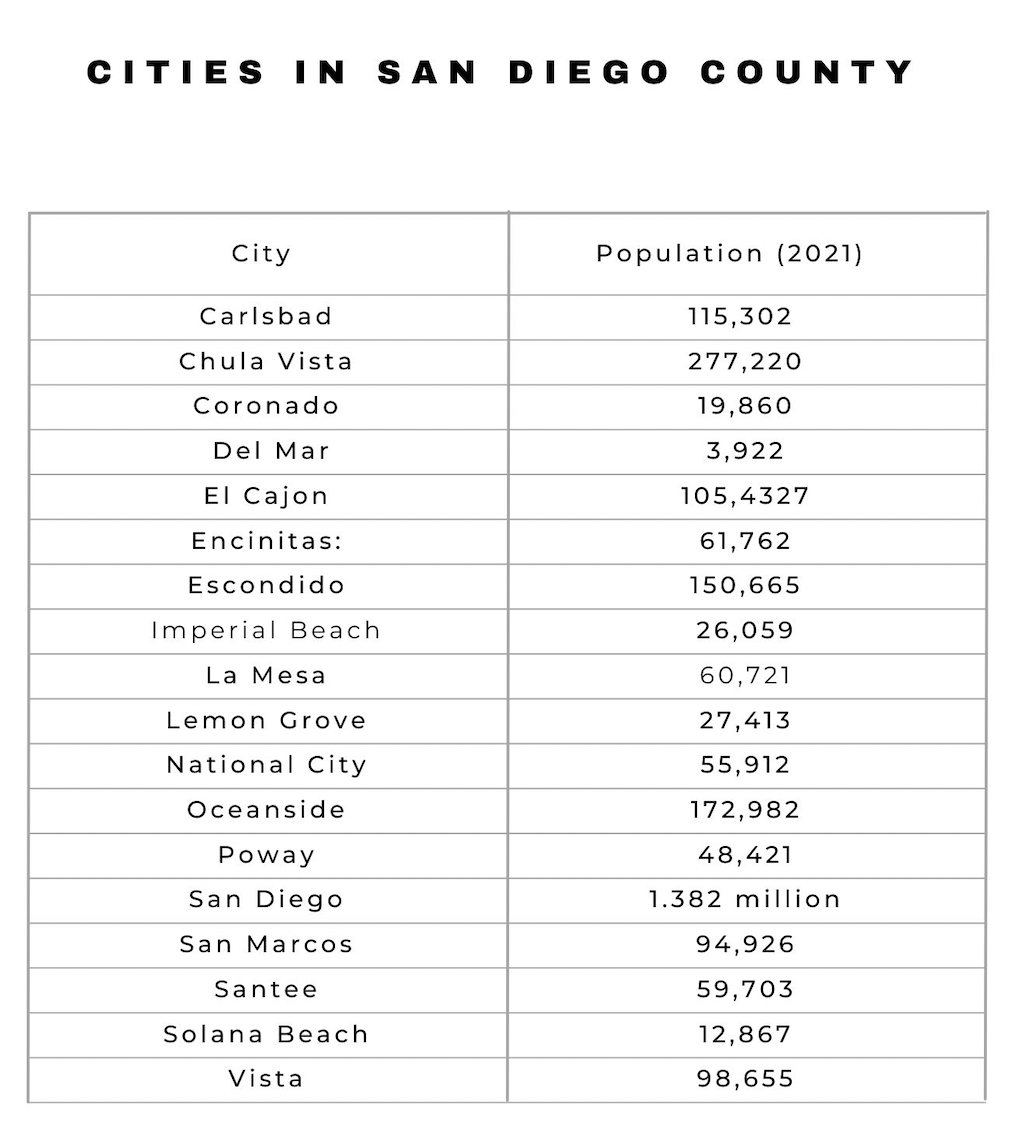 Carlsbad
Carlsbad is one of the largest cities within the coastal part of San Diego County. It is located about 35 miles from downtown San Diego. It is one of the wealthiest areas in San Diego County, as well as the entire United States. The average home price in Carlsbad is $1.2 million. Carlsbad is most well-known for its stunning beaches, craggy cliffs, and wealthy inhabitants.
Popular surf spots like Tamarack Surf Beach are scattered throughout the city. If you are in the mood for some incredible tourist attractions, Carlsbad is a great place to visit. LEGOLAND, Sea Life Aquarium, and the Carlsbad Flower Fields are all located within the picturesque city of Carlsbad.
Chula Vista
Chula Vista is the second most populous city in San Diego County with a population of around 276,000 people. It is a culturally diverse city and is only about 7 miles from the Mexican border and the city of Tijuana, Mexico. Families with kids especially love living in Chula Vista. There are plenty of great schools and amenities.
Coronado
Coronado Island is a picturesque resort town located off the coast of the mainland. It is located on a peninsula surrounded by the Pacific Ocean and the San Diego Bay and from the shores of Coronado you can see gorgeous views of the downtown San Diego skyline.
Coronado is a very popular tourist destination and has plenty of attractions like golf courses, bike tours, kayaking, fishing, and miles of pristine beaches. Catering to the tourists, Coronado is home to stunning hotels like Hotel Del Coronado as well as spas, restaurants, and bars. The population of Coronado is around 20,000. Coronado is one of the most expensive places to live in San Diego County. The average home costs $2.4 million and the median monthly rent is $2,479.
Del Mar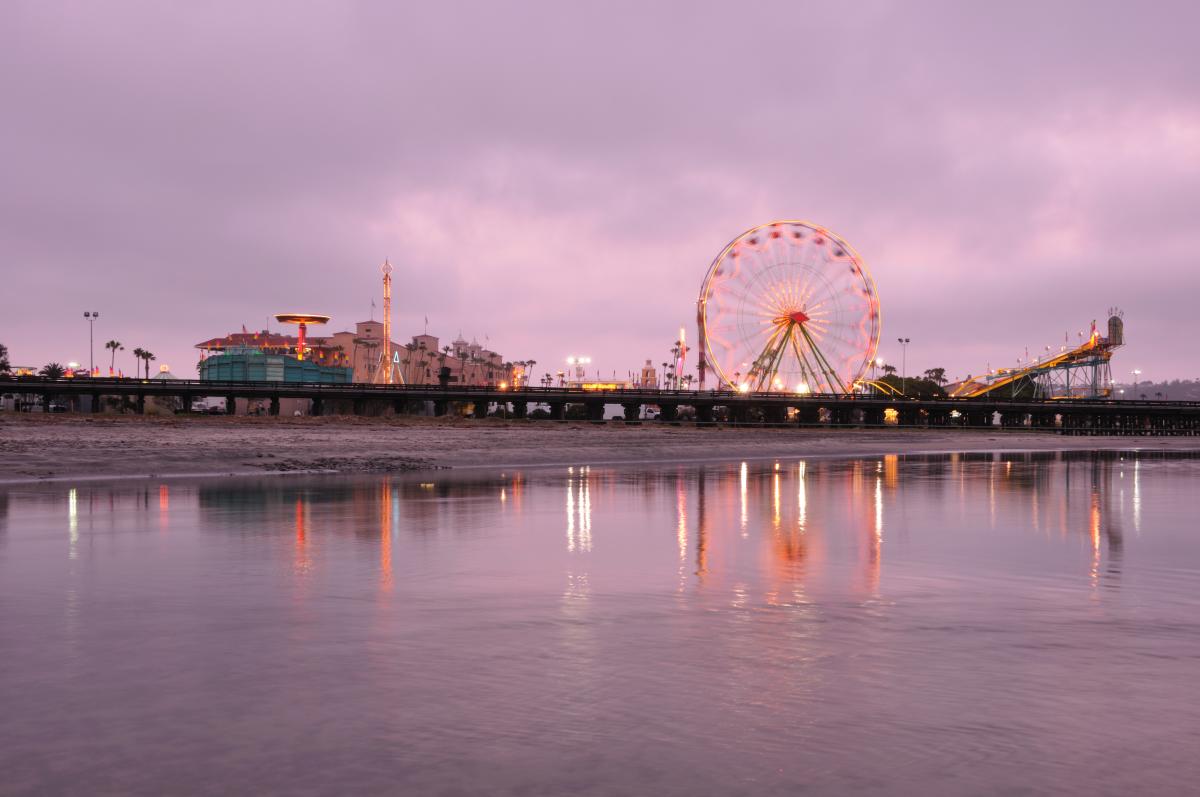 Del Mar is one of the most desirable places to live in all the San Diego County cities. It has a much smaller population than many of the major cities, and some of the highest-income demographics in the region. Del Mar is home to the famous San Diego County Fair along with gorgeous beaches. Del Mar Race Track is a famous spot for horse racing, and enthusiasts from around the world visit to watch the races. Del Mar is only 20 miles from downtown San Diego and the median home cost is over $2 million.
El Cajon
El Cajon is only about 17 miles from downtown San Diego and is the largest city in the East County region. El Cajon is known for its diverse population and it is one of the more affordable places to live within San Diego County. In El Cajon, the average home price is around $675,000. The average rent in El Cajon is around $1,700.
Encinitas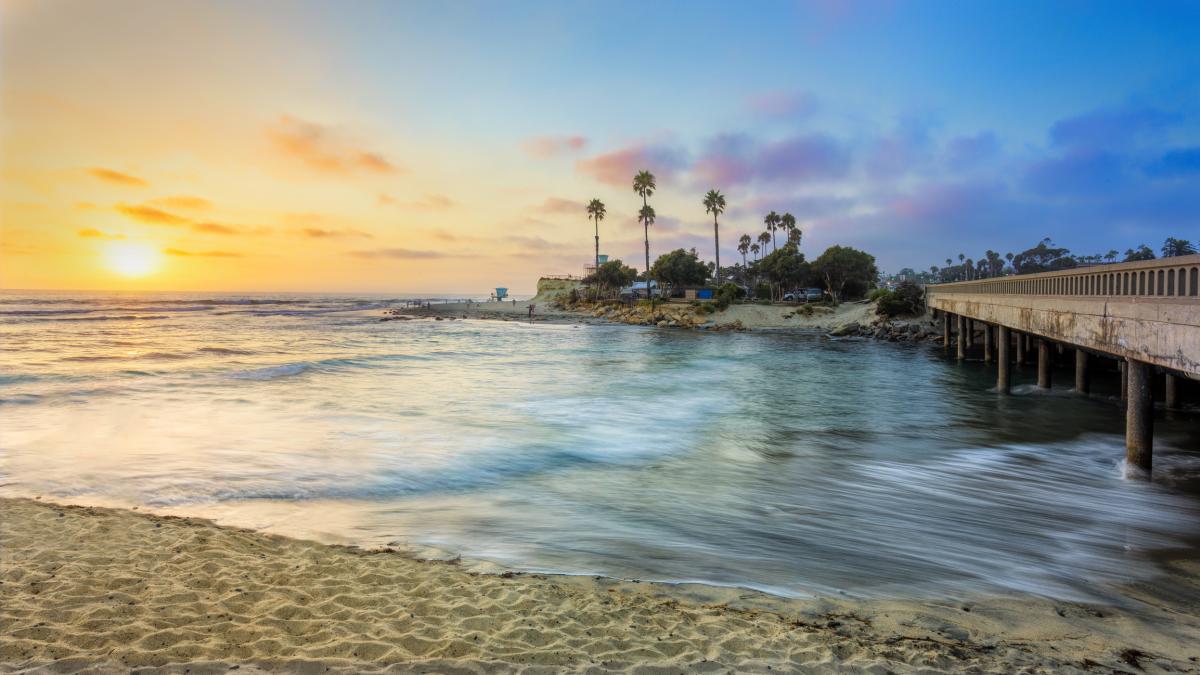 Encinitas is a beloved city that is located just 25 miles from downtown San Diego. The area is most well-known for its amazing surf beaches. A walk along any of the stunning coastlines in Encinitas will surely result in a show from some of San Diego's top surf enthusiasts. You'll find some of the top-rated beaches in Encinitas including Moonlight State Beach and Cardiff State Beach. Encinitas is an affluent city, and the average home costs around $1.59 million.
Escondido
Escondido is San Diego County's go-to spot for wine and craft beer. The area is jam-packed with beautiful wineries and craft breweries. The downtown area has a lively arts scene and plenty of cute shops and cafes. It is the biggest city in the inland part of North County and is about 30 miles from downtown San Diego.  Other features of Escondido include good schools, low crime, and plenty of parks and outdoor spaces. It's a great place for families and has a more affordable cost of living compared to other San Diego County cities. The average home costs around $734,500.
Imperial Beach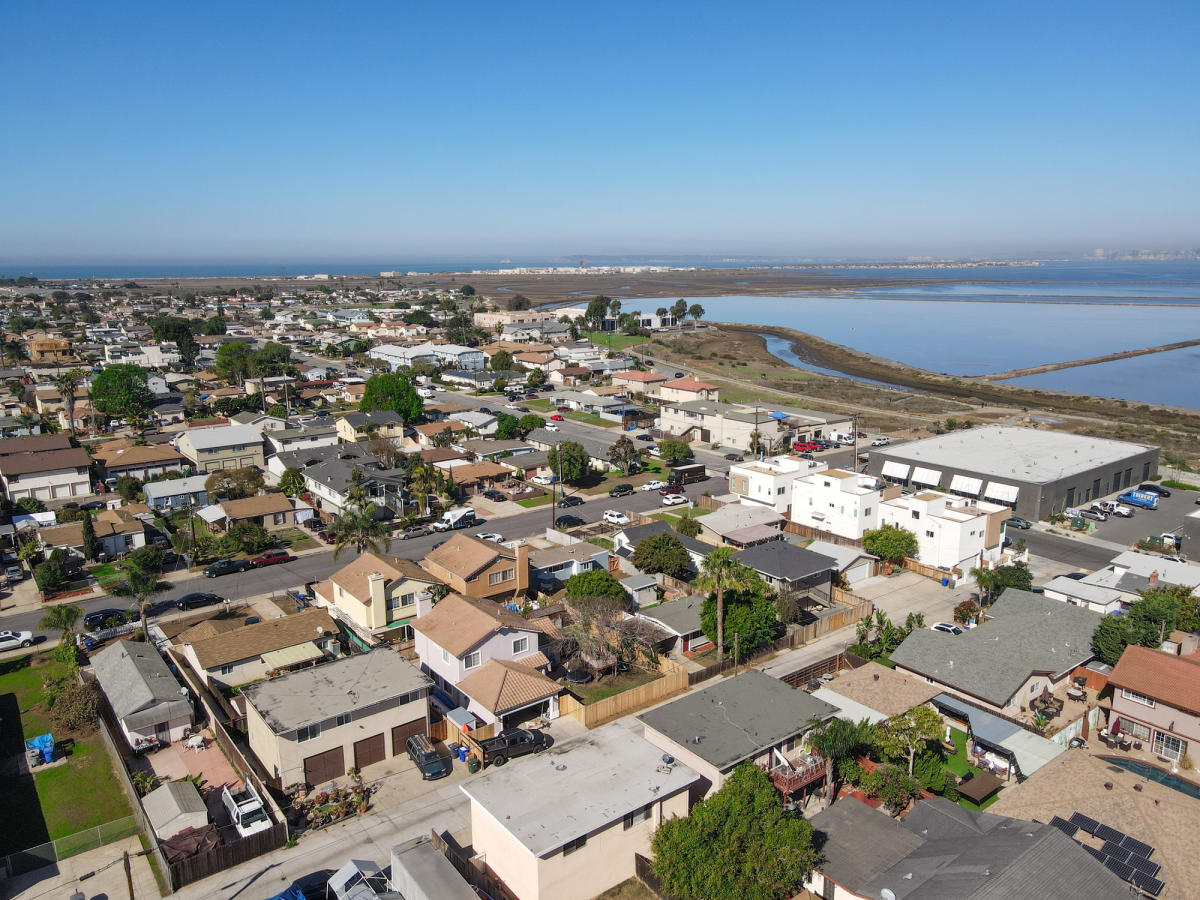 Imperial Beach is a hip and eclectic beach community located about 15 miles from downtown San Diego and only 5 miles from the Mexican border. With beautiful beaches and a fun atmosphere, and a pier overlooking the ocean. Each year the U.S Open Sandcastle Competition and Festival is held in Imperial Beach and the city receives over 300,000 visitors. The population of Imperial Beach is 26,059 and the median home price is around $800,000.
La Mesa
La Mesa is affectionately dubbed "the Jewel of the Hills." The city is home to a little over 60,000 people and is known for its historic architecture and stunning views and vistas. The city was founded in 1912 and retains much of its old-world charm today. Here, residents feel immersed in small-town charm while having all of the amenities of a big city. A trolley connects La Mesa with downtown San Diego, offering convenient public transportation. The median home price in La Mesa is around $788,143.
Lemon Grove
Lemon Grove is aptly named – lemons still grow all over the place in this San Diego County city. Lemon Grove is conveniently close to downtown San Diego – only about 12 miles southwest. The climate in Lemon Grove is lovely and the area was settled early on as it was deemed an ideal place to raise livestock and grow crops like – you guessed it – lemons. Lemon Grove is very residential and has a population of about 27,413 people. The median home price in March 2023 was $680,000 – making Lemon Grove one of the more affordable cities in San Diego County.
National City
National City is one of the most inexpensive places to live in San Diego County. Located in the South Bay region, it is also one of the oldest cities in the region and was established in the late 1880s. While average home prices in National City are considerably lower than other cities in San Diego County, at $615,000, the city's high crime rates deter many people from moving to the area.
Oceanside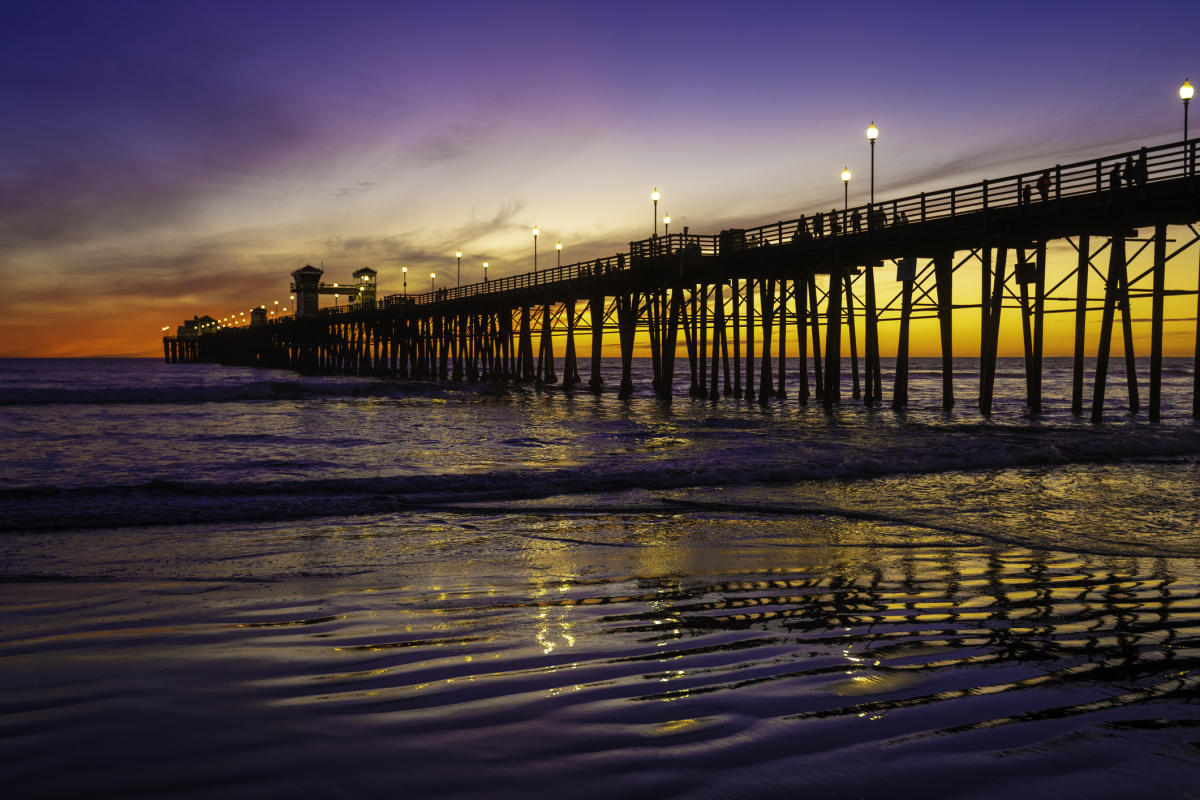 Oceanside is a picturesque beach community with a population of 172,982 people. There's a strong surf culture and the city is home to the California Surf Museum which pays homage to famous surfers and the sport as a whole. Other tourist attractions include great shopping, beautiful beaches, the Oceanside Pier, and the Oceanside Museum of Art.  The median home price of $750,000.
Poway
If you're happier in the country than in the hustle and bustle of the city, Poway is the San Diego County city for you. It's nicknamed, "the City in the Country," and is located about 23 miles from downtown San Diego. The area is known for producing peaches and is full of vineyards. The population of Poway is about 48,421 and the median home cost is around $1 million.
San Diego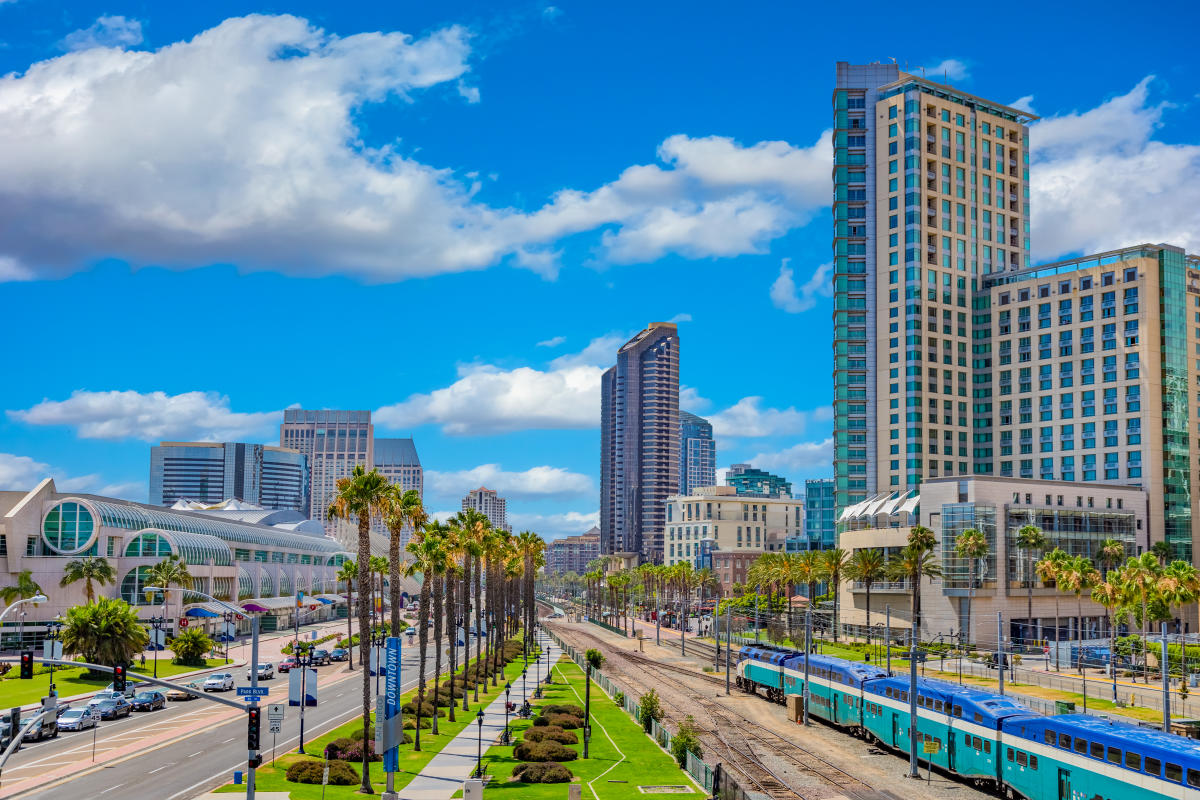 The city of San Diego is the county seat for all the San Diego County cities. Downtown San Diego is full of exciting tourist attractions, delicious restaurants, and activities for residents and tourists to enjoy like Balboa Park, Balboa Park Golf Course, beautiful beaches, and plenty of arts and culture. Balboa Park is home to 14 museums and stunning gardens all within one convenient park and visitors can walk between all of the attractions.
Downton neighborhoods like Gaslamp Quarter have countless delicious restaurants to choose from, including lively rooftop restaurants that are perfect for enjoying the San Diego sunshine. Undoubtedly San Diego is the area that most visitors imagine when they think of the San Diego metropolitan area. There are some great schools and well-known universities like the Thomas Jefferson School of Law. The population of San Diego is 1.382 missions and the median home cost is $925,000.
San Marcos
San Marcos is home to California State University San Marcos, a popular public college with a student body of more than 16,000 people. The campus itself is 305 acres. It is a great spot for education in general, and the public schools are highly rated too!
The rest of San Marcos is pleasant and suburban. There are some great shopping centers and malls as well as excellent dining options. San Marcos is 36 miles from downtown San Diego, and the average home price is 827,500.
Santee
Santee has a population of around 60,000 people and is located 18 miles from the shores of the Pacific Ocean. Santee is mostly residential and is a popular area for outdoor recreation like camping, hiking, fishing, spotting wildlife, and mountain biking. The locals in Santee are friendly, and the area has a quaint small-town vibe. The average home in Santee is valued at around $720,000.
Solana Beach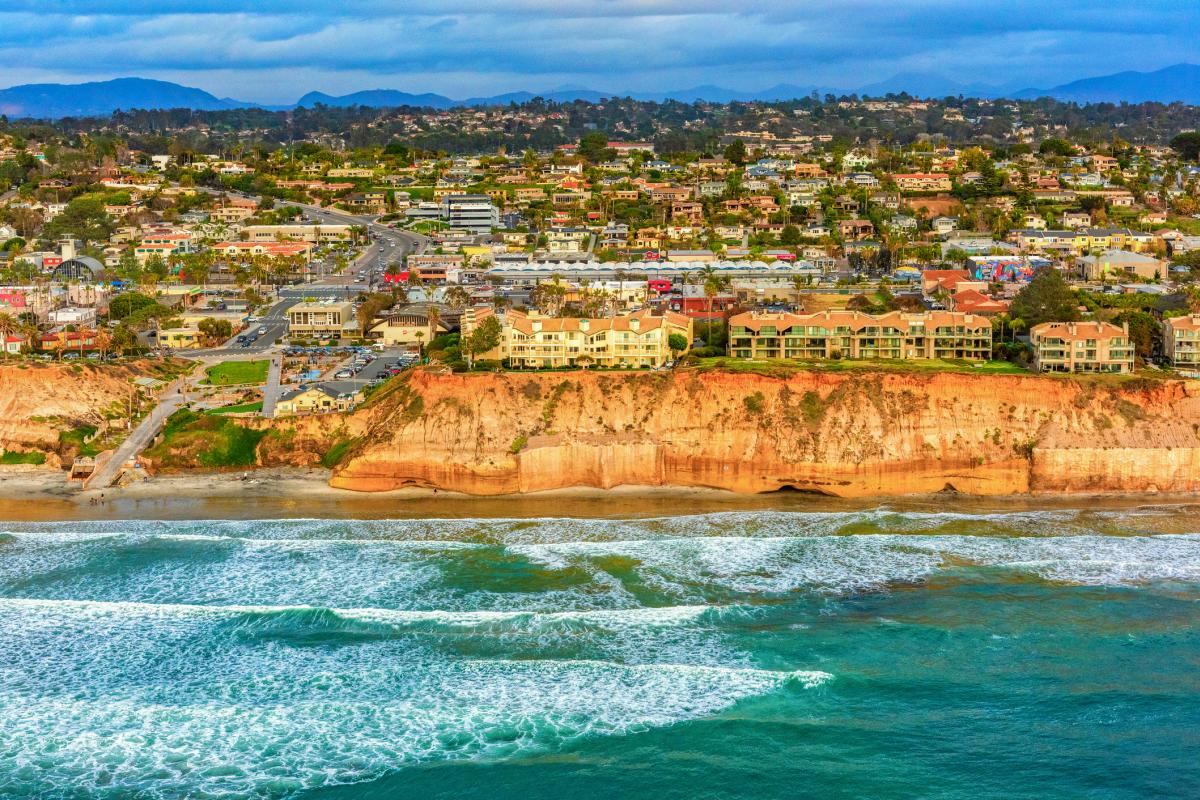 Solana Beach is an extremely popular coastal city in San Diego County that is known for great hiking trails, beautiful scenery, surfing, tidal pools, and a fun atmosphere. The streets are lined with cool locally-owned shops, restaurants, and cafes. Most of the shops and restaurants in town are within a short walk of Fletcher Cove, which is Solana's most popular beach. The population of Solana Beach is about 12,867 people and the median home price is around $1.9 million.
Vista
Not to be confused with Chula Vista, the city of Vista is 42 miles North of San Diego. It is close to the coast and has excellent entertainment options including shopping and dining. It is a top area for families because of its amazing parks and recreation facilities. There are hiking trails, horse trails, lakes, playgrounds, a waterpark, and even an amusement park. Vista also has more than 75 religious churches and temples for residents looking for a spiritual community.
Let us be the first to welcome you to San Diego County!
You're going to love it here! Each of the cities in San Diego County is well worth exploring. With diverse populations, stunning natural landscapes, and all kinds of world-class attractions - there is truly something for everyone. Come for the perfect weather, and stay for the vibrant cities and neighborhoods. Whether you're a tourist traveling to San Diego for the first time, you're considering retiring to the region, or you've lived here all your life - it's well worth carving out some time to get acquainted with each of the unique cities and the countless neighborhoods within each. 
What is your favorite neighborhood in San Diego? Follow us on social media and let us know!